FMCSA Electronic Logging Device (ELD) Mandate Compliance Date is Coming
In December 2015, the Federal Motor Carrier Safety Administration (FMCSA) released the final ruling on mandating electronic logbooks for commercial vehicle drivers working in the U.S. It also applies to truck and bus drivers from Mexico and Canada who cross into the U.S. and operate a commercial vehicle.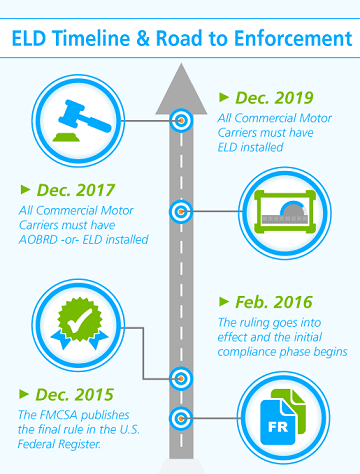 The ruling was implemented to improve highway safety by strengthening driver compliance with Hours of Service regulations that prevent fatigue. The rule not only addresses the requirement for electronic logging devices, but describes the type of supporting documents required for managing driver Hours of Service (HOS) reporting.
With the compliance date December 18, 2017 approaching soon, are you ready?
Don't Delay, Act Now! Complete the form below for more information on Descartes' ELD solution. Let us help you ensure that you are fully compliant by the December 18, 2017 deadline!