Chris Jones is Executive Vice President, Marketing and Services at Descartes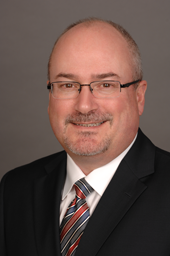 We've all been there – buying furniture, home appliances, or that new flat screen TV, when the taxing moment comes to schedule the delivery appointment for our purchase. Whether shopping at a store or online, more often than not, we're presented with limited delivery options such as half-day time slots for the morning or afternoon or the ever dreaded, "We'll call you the day before and confirm the time your goods will arrive..."
As consumers, we want choice, convenience and reliability. The more delivery options we have the greater the ability we have to choose an appointment that best conforms to our busy schedules. The narrower the appointment window, the less time we spend waiting for a delivery. These days who can afford to miss a day of work to wait for delivery of a new refrigerator?  And worse… what happens if it is late or fails to arrive?
Leading retailers understand that enhancing customer service for home delivery can be a key competitive weapon. Consumers will be loyal across retail channels to retailers that consistently provide them great service consisting of choice, convenience and reliability. Service failures not only risk consumers not returning, they can also result in poor ratings and negative brand equity.
Few retailers would disagree with the previous statements. Yet, too many retailers mistakenly believe that improved service means higher delivery costs. What if Descartes could offer tighter time windows, premium delivery times and value-added services (installation, removal, etc.) for less cost or increased revenue? Would consumers pay for a premium 2-hour delivery window at lunch or on a Saturday? Would consumers sign up for value-added services if they knew they would be reliably delivered? Would consumers take "free" delivery at times that were cost effective for the retailer? What if all of this could be done across multiple retail channels, stores, web, etc.?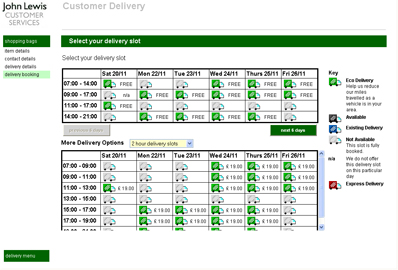 This is just what one of our valued customers, John Lewis Partnership did. John Lewis Partnership is one of the United Kingdom's leading retailers with gross sales of over £8.2bn across 35 John Lewis shops (29 department stores and six John Lewis at home), johnlewis.com and 274 Waitrose supermarkets.
As part of their multi-channel retailing initiative, they have successfully implemented Descartes' Reservations and Route Planner solution to consolidate home deliveries for larger goods into one dynamic booking system. The solution allows John Lewis customers and employees to book delivery appointments in real-time on the website and at the point-of-sale while supporting the up-sell of value-added services consumers that consumers want. Unlike batch optimization solutions, the dynamic incremental optimization used by Reservations and Route Planner allows John Lewis to place orders on schedules in real-time, helping to ensure delivery routes are realistic, efficient and productive. The solution's web-based architecture allows high-speed automated booking, even in the peak holiday season, and enables centralized route planning for all of the United Kingdom. With high-quality results, delivery planners can manage delivery exceptions and concentrate on maintaining high customer services levels.
Regarding the project, Andrew Gay, Systems Manager at John Lewis Partnership said, "Customer service is paramount at John Lewis and Descartes' Reservations and Route Planning solution are integral to our strategy of offering more extensive, but unified, delivery services across all of our channels. Descartes' advanced optimization capabilities and architecture were critical to bringing new delivery service options to our customers in an economically feasible way."
Check out the press release and learn more about John Lewis Partnership.
We are thrilled to continue working with leading retailers like John Lewis who have a vision for using customer service as a competitive weapon. We congratulate them on their success and are so pleased that they are realizing significant benefits. If you want to learn how you can turn your "last mile" delivery operations into a differentiator and revenue generator, please let us know.