Two years ago, we started the Fleet Benchmark Survey because we were seeing some companies be incredibly successful in leveraging their fleet to positively impact their performance while others just struggled to get value. Now that we have data from hundreds of companies, we can better see what macroeconomic and industry trends are shaping fleet strategies and tactics. Most importantly, we can identify how top performers think and act differently from the rest of the pack. Here are some of the key questions addressed in the upcoming web seminar 2019 Fleet Management Strategies of Top Performers on Thursday, May 2 at 2pm ET.
Who are "Top Performers"?
Top performers not only do better financially and grow faster, their management believes that the fleet is a competitive weapon. Never have there been more compelling examples where transportation and logistics are being used to provide differentiation and value, and where "good enough" transportation is no longer "good enough" if you are looking to be the best performing company in your industry. You can see this in Figure 1 where we compared answers to 2 questions: "How is your company performing financially?" and "How strategically is the fleet viewed by management?"
Almost 2.5 times as many financial leaders said that management viewed the fleet as a competitive weapon.
93% of those who cited the fleet as strategically important indicated they had better-than-average to industry leading financial performance.
Financial leaders were 11X more likely than financial followers to expect the greatest growth (>15%) in the next 2-3 years.
Figure 1: The relationship between fleet importance to management and financial performance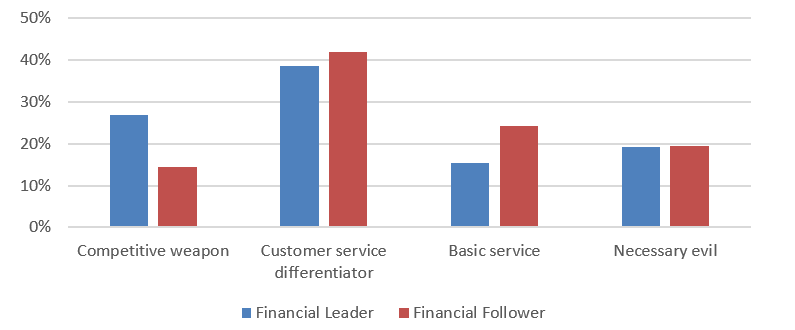 What is shaping fleet strategies, tactics and technology choices?
The driver shortage continues to have the greatest impact and was 2X the closest alternative. More demanding customers, fuel costs and ELD/HOS come in very close for second through the fourth place (see Figure 2). That it is hard to find and retain drivers should be no surprise to anyone. Financial leaders feel the impact of the driver shortage the most (85%) as they are also the ones with the greatest growth for the next 2-3 years. Fuel costs are 3.5X more impactful in the future for those who do not see the fleet as strategic versus those who do. What wasn't important to fleet professionals?  The hype stuff—crowd/marketplace source logistics and driverless vehicles. While these are receiving a lot of attention in the press and funding, very few see them making an impact soon.
Figure 2: Top 5 Industry or regulatory changes that will have the greatest impact over the next 5 years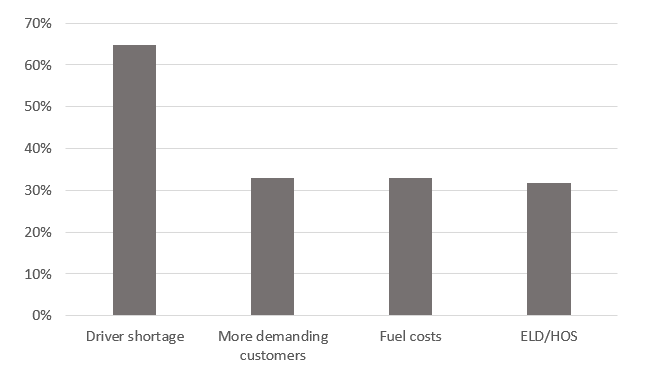 How do top performers demonstrate the greater value of the fleet?
They measure its value not only better within their own organization, but in the areas that are most important to the C-suite: contribution to revenue growth and competitive differentiation (see Figure 3). Innovative fleet strategies can make a difference to sales and the customer. Hitting cost and service targets are basic expectations where little credit is earned. Not measuring the impact of the fleet outside of the transportation and logistics organization does not help promote the strategic importance of the fleet in management's mind. The study shows that management's perception of strategic importance is directly related to role and funding that the fleet has in the organization. It's a missed opportunity—limited measurement, limited perceived value.
Figure 3: How is the value of the fleet measured?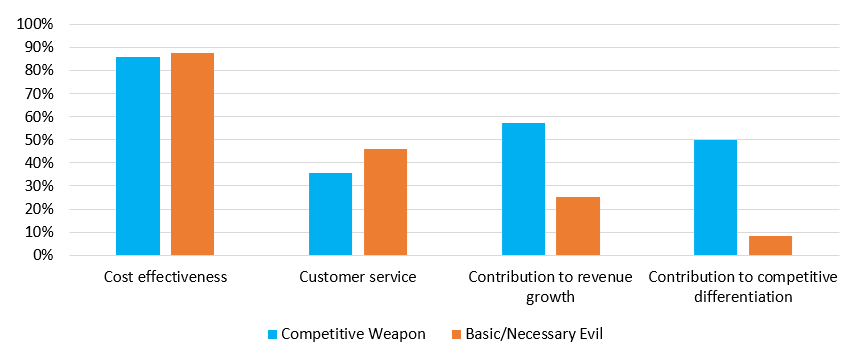 Where is fleet IT spend headed?
Fleet IT spend continues upward with the most aggressive spending (>5%) growing 8% versus 2018. That's the good news as driver capacity makes IT more important than ever in addressing productivity opportunities and challenges. The bad news is that the majority of the increased spend will come from the top financial performers. This changed considerably versus last year and is consistent with the anticipated growth of top financial performers. The benchmark shows that top performers are striving to deliver innovative fleet strategies and many of them are directly related to investment in next-generation fleet IT solutions. The concern for the "rest of the pack" is that they will begin to face an IT-driven fleet capability gap and competitive disadvantage.
Figure 4: How will your fleet IT spend change over the next 2 years?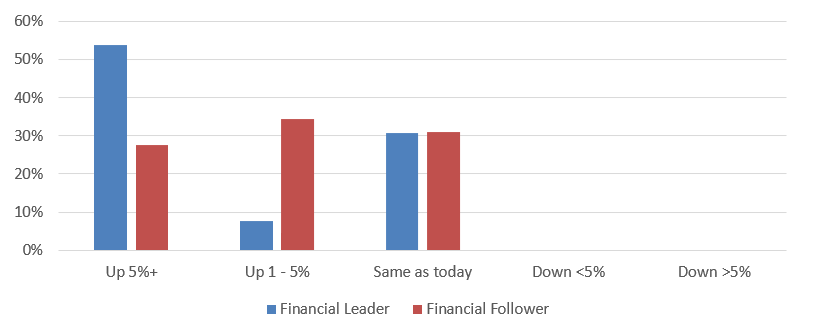 The role of fleet, market conditions and technology are changing at an ever-greater rate than before. To learn more about how top performers are adapting their strategies, tactics, and technology to not only survive but thrive join the 2019 Fleet Management Strategies of Top Performers web seminar on Thursday, May 2 at 2 pm ET.