5th Annual Survey Review
Since 2017, Descartes has conducted one of the industry's most comprehensive annual benchmarking surveys of hundreds of transportation decision makers. In this session, supply chain industry veteran and Descartes leader Chris Jones reveals the results of our 2021 survey. He takes you behind the numbers to offer unique market context, actionable best practices, and an inside look at how successful companies approach transportation management as a strategic priority. We'll also evaluate the impact of the pandemic on that thinking and how organizations are changing—or not—in the face of a constantly evolving transportation market.
This survey reinforces the ever-growing link between financial performance and the strategic value businesses place on transportation and related technology investments.
What you'll learn:
Where top performers are focusing investments
What capabilities are demanded now, and in the future
Why your technology strategy matters now more than ever
Why cost-cutting alone isn't enough
What's on the horizon beyond 2021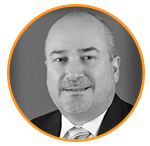 A 30-year supply chain veteran, Chris leads our annual survey effort. He works closely with businesses to help them fine-tune their transportation technology strategies, anticipate what's next, and find ways to use technology to create meaningful competitive differentiation. Chris is currently Executive Vice President of Marketing and Services. He has held a variety of senior management positions including Senior Vice President at The Aberdeen Group's Value Chain Research practice, Executive Vice President of Marketing and Corporate Development for SynQuest, Vice President and Research Director for Enterprise Resource Planning Solutions at The Gartner Group and Associate Director Operations & Technology at Kraft General Foods.
Chris Jones , EVP Marketing and Services, Descartes
Complete the form to view our pre-recorded web seminar, originally held on Thursday, May 20, 2021 at 2 PM ET