On December 10th , the Federal Motor Carrier Safety Administration (FMCSA) released the final ruling on mandating electronic logbooks for commercial truck and bus drivers working in the U.S. and for those drivers from Mexico and Canada who operate a vehicle on U.S. roadways.
The ruling was implemented to improve highway safety by strengthening driver compliance with Hours of Service regulations that prevent fatigue. The Department of Transportation (DOT) estimates that, on an annual basis, it will help save 26 lives and prevent over 560 injuries due to roadway crashes that involve commercial motor vehicles. They are also estimating that it will cost the trucking industry around $1 billion but save $2.4 billion, largely in paperwork, which results in a net savings of over $1 billion.
The rule not only addresses the requirement for electronic logging devices, but describes the type of supporting documents required for managing driver Hours of Service (HOS) reporting.
What does the new mandate requiring electronic logbooks mean for commercial drivers?
Commercial vehicle drivers will have to switch from paper-based driver logs to electronic logbooks by December 2017. Electronic logbooks automatically record detailed, real-time information about driving time, engine hours, vehicle movement, miles driven and location information. With electronic logbooks, fleet owners/operators will be able to minimize the amount of paper and manual effort required to ensure compliance with Hours of Service reporting.
Certainly there is an initial capital outlay to implement the new technology, but it will ultimately improve safety on our roads, reduce the number of deaths and injuries, increase reporting accuracy and save the industry over a $1 billion annually.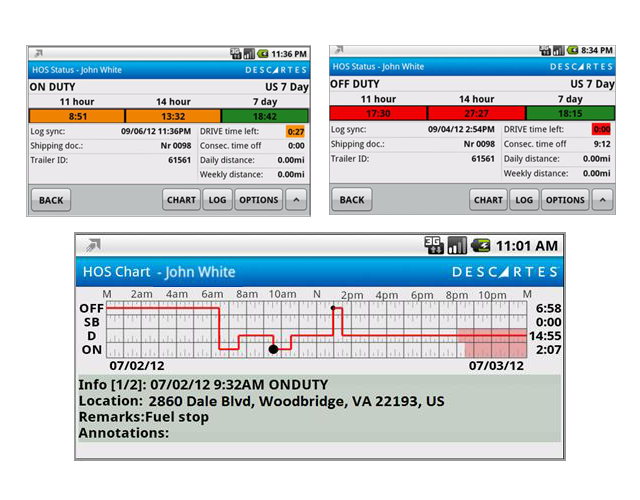 For information on how Descartes Telematics & Compliance solutions can help you get up and running before the deadline, contact us at info@descartes.com.