We wrapped up our annual Global User and Partner Conference last week, and by all accounts, it was a great success. Last week, a record number of customers and partners, from around the world, converged at the W Hotel in Ft. Lauderdale for Descartes' Global User and Partner Conference. By all accounts it was an incredible success and great opportunity for our community to network, learn and interact with our most significant and important technology advances.
The event also represented a significant milestone for Descartes – the unveiling of the next generation of our brand identity. We are building upon our 30-year legacy of helping to make the world a better place through solutions that improve the productivity, performance, security and safety of logistics. Our brand reflects our focus on innovation in pursuit of uniting businesses in commerce. It defines how we conduct business and speaks to our values. It represents our culture of service and dedication to helping customers deliver by bringing together the people and technology that move that world.
Since our founding in 1981, we have grown and evolved as an organization, but our core values remain the same. Descartes' Global User Group is a natural extension of the learning organization that is at our core. The conference provided an opportunity for the Descartes team and our community of users and partners to:
Listen Educate Articulate Research Network
We discussed our product development priorities, and we shared information on the latest technology advancements, best practices and customer/partner success stories. Some of the highlights included:
The unveiling of our two latest innovations available on the Descartes Logistics Technology Platform:
The Descartes Collaboration Gateway, which supports secure access for ad hoc parties that casually connect to trading parties as part of the supply chain process
The Descartes Ocean ACE Filing, an M1-Certified solution for ocean shipments arriving in the US
Training and demonstrations of our integrated Routing, Mobile and Telematics solutions;
Annette Sandberg, former Administrator of the Federal Motor Carrier Safety Administration, who shared her perspective on transportation regulatory trends;
Matthew "Whiz" Buckley, decorated Naval Aviator, author and executive who presented a high-energy, team-building session designed to inspire organizations to unleash the power of Afterburner's Flawless Execution model for achieving mission-critical goals; and
A robust technology showcase including sponsors/partners such as: Airclic, ALK Technologies, AT&T, GeoMicro, Honeywell, Intermec, INTTRA, Motorola, NAVTEQ, OnTrac, Psion, SAP, SMC3, Sygic, TomTom, and Wavelink
And finally, we successfully concluded our Evolution 2011 Global User & Partner Conference by presenting Descartes' Excellence and Innovation Awards to a select group of our customers and partners for their work throughout the last year. The Excellence and Innovation Awards recognize Descartes customers and partners that have demonstrated and achieved great results, have successfully launched transformational initiatives for their businesses and/or use Descartes' solutions in innovative ways that deliver high return on investment and rapid time-to-value. They are models for their industry peers.
Please join us in congratulating the following ten Descartes customers and United by Design partners who were recognized with a Descartes Excellence and Innovations Award for their unique achievements and performance:
American Airlines
CVS Caremark
Delta Airlines
DHL Global Forwarding
Ferrellgas
Infoway
Jaguar Freight Services
Joseph Cory Holdings
Oldcastle
TJX Canada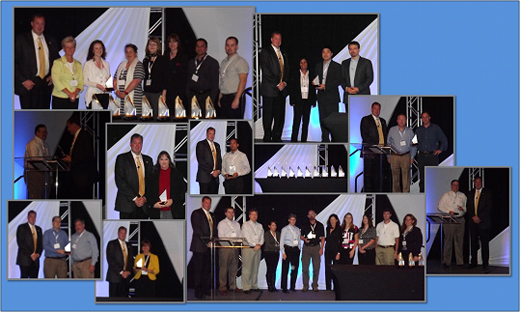 Our primary goal is to make our customers and partners successful. Your satisfaction and continued support are key to Descartes' continued business success. On behalf of the entire Descartes team, thank you for helping Descartes become the global leader in logistics technology. An event highlights video will be available shortly. Stay tuned!