Descartes Evolution 2020 Mobile Application
Download Instructions and Quick Start Guide
Descartes Evolution 2020 App Features: 
View event information including registration hours, Wi-Fi details and track descriptions
Review the agenda and explore session details
Add sessions to a personal agenda
Access speaker, attendee, and sponsor information
Navigate the conference via an interactive floor plan 
Provide valuable feedback through session ratings
Take notes, set reminders, bookmark, and share photos
The Descartes Evolution Mobile App is sponsored by:


Download our application by searching Descartes Evolution 2020 in the App Stores or by accessing it via one of the following links:   
All registered attendees have access to features within the Mobile App that are only available once logged in. To log in, install the app or access via the web by opening the app in a web browser using the above Mobile Website link. If accessing the app via the downloaded version, launch the program by clicking the Descartes Evolution icon on your mobile device. Once opened to the login page, follow the below steps to log in:
Login – Enter your first and last name.
Verification code - the verification code will be sent to the email used to register for the event. Once you receive the 4 digit code, the app will walk you through the rest. Note: the verification code can take up to 15 minutes to be delivered to your inbox.
Trouble logging in?  Contact us or visit the Registration Desk on site for assistance. Module Descriptions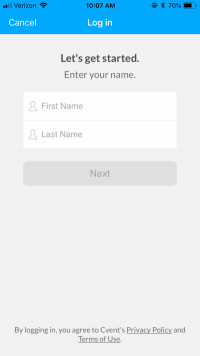 Schedule - View all of the scheduled speakers and events taking place at Descartes Evolution 2020. Add sessions to your personal schedule and view your agenda under 'My Schedule'. Under 'Invitations, view and respond to Innovation Center appointments.
Speakers - View all the speakers presenting at the event and keep track of your bookmarked speakers.
Program Tracks - Speakers and events are grouped by industry programs and listed in an easy to view layout.
Sponsors - View the list of event sponsors, learn more about their product offerings, and visit their website, straight from the app.
Activity Feed - See what others are saying about Descartes Evolution on the event's social channel, 'Event Feed'. Join in and share your thoughts and photos in real-time! 'SocialWall' allows you access to all Event-related tweets, using #DescartesEvolution. And the 'Notifications' tab compiles all Event Notifications from the Descartes Evolution Planning Team, for quick reference.
Maps - Quickly access the Diplomat Beach Resort Floor Plan. Also includes a map of your current location for exploring the area. 
Attendees - A full list of the attendees at Descartes Evolution 2020. Attendees can manage the visibility of their individual profiles directly in the app by customizing the privacy settings. Only information an Attendee marks as Public will show up for other Attendees, and the Attendee section is limited to registered conference participants only. We never share our customer's information with third-parties!
Innovation Center - Learn more detail about the solutions offered by Descartes.
Event Info - General information about the event including but not limited to: hours, exhibits, local information, and Wi-Fi instructions.