Effective Global Sanctions Search in Salesforce
With sanctions fines in the billions of dollars, pinpointing sanctioned and denied parties within Salesforce CRM is a must.
---
At the core of global sanctions compliance screening is a review of information as it flows into and out of a business
Since most companies operate on centralized platforms such as Customer Relationship Management (CRM) systems, most prominently Salesforce, screening data within these systems can go a long way towards minimizing an organization's risk exposure profile.
This white paper provides insights on how your organization can help reduce risk while keeping productivity at its peak.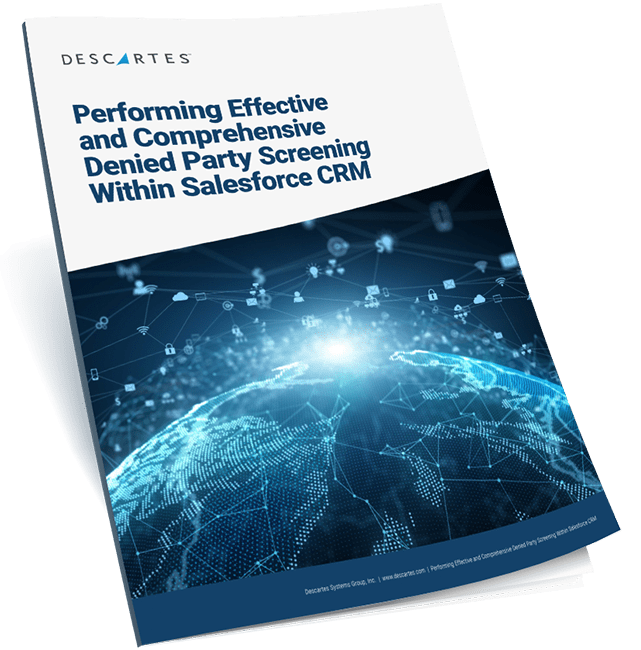 Denied Party Screening and Salesforce CRM
Customer Relationship Management (CRM) platforms such as Salesforce often act as the centralized platform for sales, marketing, and other departments. The contact and lead records within CRMs change at a rapid rate since sales and marketing are continuously prospecting and initiating campaigns.
Although high degrees of due diligence may be performed when a prospect becomes an account, it is often not practical to screen leads before they convert.
This is why denied party screening in solutions such as Salesforce can be critical in reducing your organization's exposure to risk. Screening of a lead before it becomes a contact can help serve as an added measure of risk management before business is formally transacted.
---
Key Focus Areas Include:
Performing denied party screening in Salesforce without draining resources

Pinpointing bad actors given the potentially complex ownership structures of sanctioned entities

Screening across global operations, multiple departments, and various business units

Creating an audit record without additional labor

Best practices to mitigate risk
---
For more information on how Descartes can help your organization with Global Sanctions Screening in Salesforce, visit our Resource Center.