The ROI Behind Freight Visibility
Global supply chain visibility is a hot topic in today's challenging business climate. Effective visibility tools are crucial to meet evolving customer expectations as competitors continue to raise the bar on distribution service and performance.
Offering end-to-end delivery to customers requires providing and managing numerous modes, which makes gaining visibility even more daunting. Plus, the carriers all have different formats, processes, and systems, which increases the difficulty.
Thanks to emerging technologies, companies now have the ability to get much more granular visibility data. However, they are searching for ways to measure its value in order to justify the financial investment in visibility solutions.
About the Series:
Descartes is pleased to offer 3 part series of pieces that covers how freight forwarders are digitizing using:
How does your company determine the ROI of supply chain visibility?
Do you know the greatest areas of visibility payback for your operations?
Are you extending the value to your partners and customers?
Do you maximize carrier coverage and compliance?
Our eBook will help you answer these questions by providing guidance on assessing real-time freight visibility solutions and featuring customer success stories with measurable results. We also explore how visibility creates value for teams, business units, and operations throughout an organization – beyond the transportation department.
Trends and Challenges Driving Visibility Adoption
The Value of Visibility
Differentiate Customer Service
Reduce Costs: Detention, Tracking, and Labor
Streamline Inbound Deliveries
Visibility Payback: Customer Success Stories
Ensure Compliance From Carriers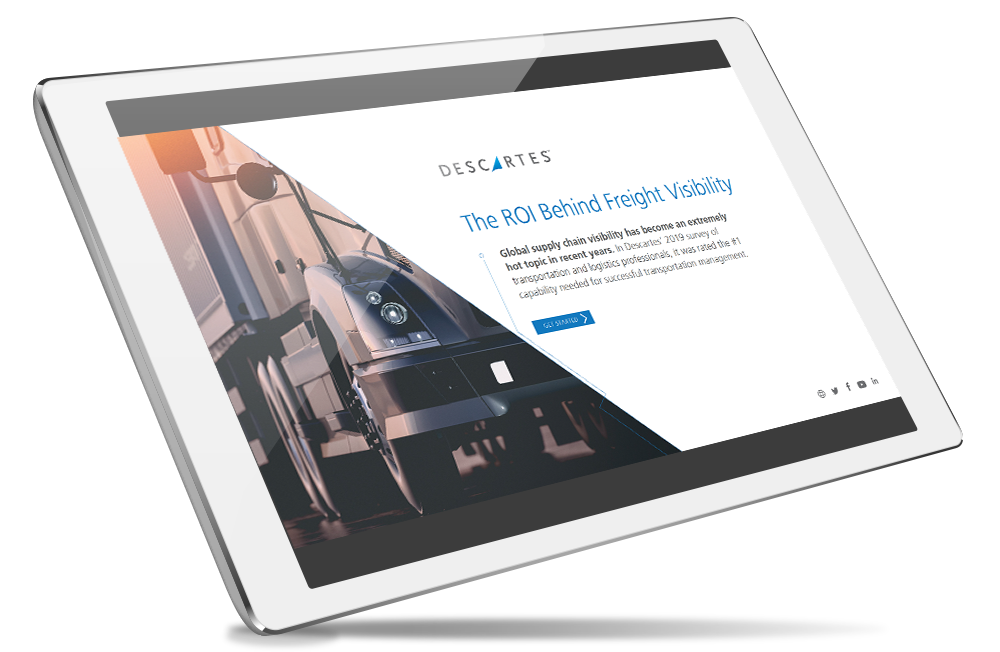 Download the Guide: