Advanced Retail Distribution
Key Enabler of Retailers' Omnichannel Transformation
Animation
With Descartes' easy-to-use solution, retail staff are empowered with delivery, quantity, category, and package content visibility down to the SKU level
Logistics Solutions That Drive Retail Success
---
Store Delivery Network Management
Mode-agnostic solution to coordinate processes, communicate with providers, control inventory, and provide network visibility and reporting for store distribution
Carton/pallet scanning, cross dock optimization, inventory tracking and proof-of-delivery and claims management solution for logistics service providers
Real-time Store Visibility and Labor Planning
Enhance store labor planning and visual merchandising through SKU level visibility of expected incoming shipments
Remote Inventory Management
Leverage the provider network to extend the "store backroom" to better manage offsite inventory staged for secure and rapid store fulfillment
We provide the management and visibility solutions to help improve coordination between retailers and their logistics service providers to improve store delivery performance.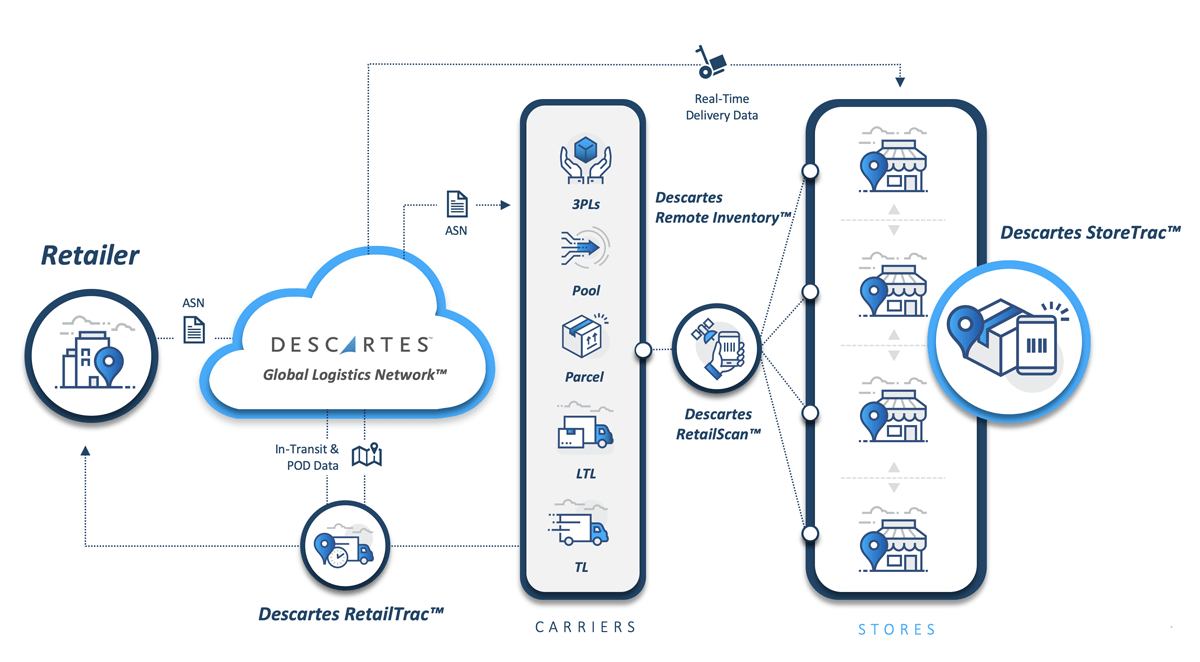 Leverage the network effect to reduce transportation costs while improving delivery frequency
Track every item from DC to store to reduce loss and claims
Mode agnostic store delivery visibility for a comprehensive view of shipments
One source of delivery performance truth for retailers and pool providers
Real-time delivery visibility at the store to improve labor planning and visual merchandising
Standardized pool provider processes and reporting

— Terri Reid, Director, Transportation & Supply Chain Caleres, Inc.
(Famous Footwear, Naturalizer and Sam Edelman stores)
---
"Using Descartes' software for retailers has resulted in consistent pool-point and in-store processes, significantly reduced transportation expenses, lowered store operating costs and the ability to pinpoint losses and process failures. It has also enabled 98.5% compliance with 2-hour delivery windows for all locations. We wouldn't be nearly as cost-effective or as precise as we are today without it."
Ready to see Descartes Retail Distribution in action?
---
Additional Resources
---
Web Seminar: Driving Visibility for Retail Delivery
Facilitate accurate labor planning and promote quick decision-making for shipment receipt with Descartes StoreTrac
Talking Logistics: Retail Distribution
The Value of the Network Effect in Transportation
Looking to meet with a solution expert?