---
Delivery Appointment Scheduling
Wayfair Deploys Descartes' Home Delivery Solution
Descartes' delivery solution enhances Wayfair's customer experience while optimizing resources.
Halfords Increases Profit and Reduces Miles
Dynamic appointments improve the customer experience and help to balance and meet demand.
Create a Highly Differentiated Customer Experience with the Industry's Most Advanced Dynamic Delivery and Service Appointment Booking Solution
---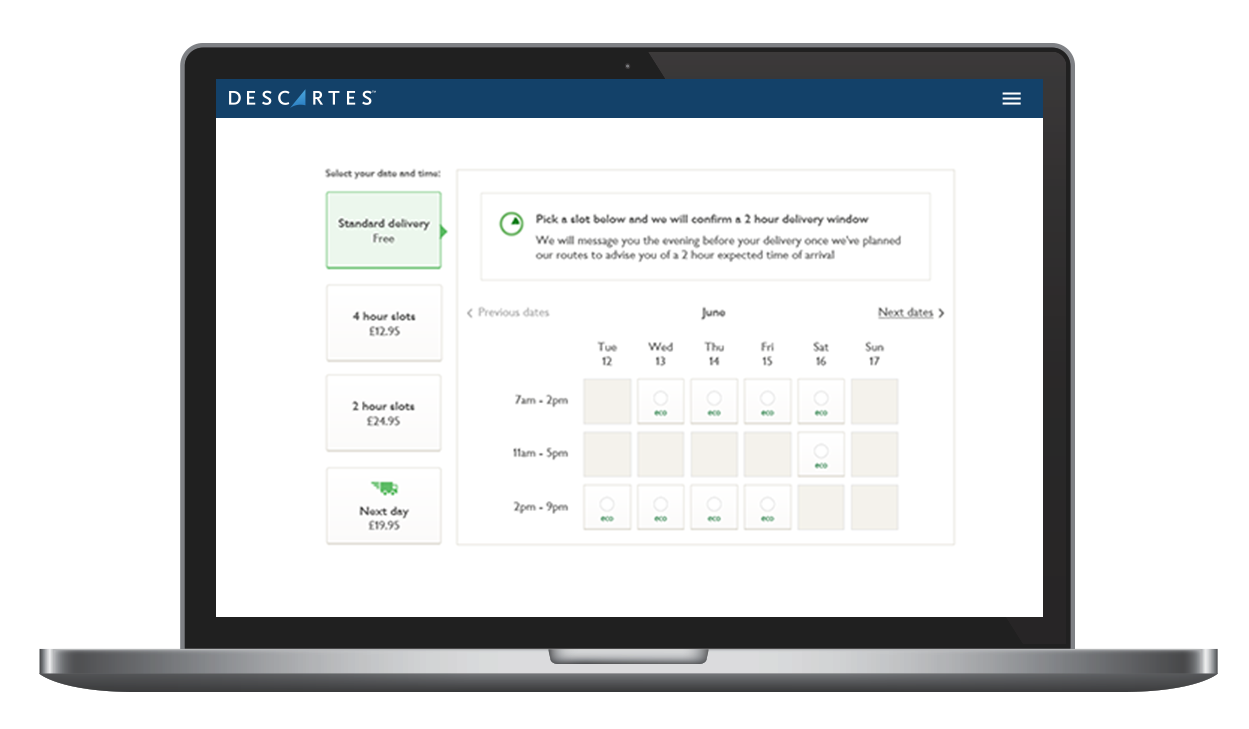 Finding the perfect balance between meeting customers' high delivery expectations and effectively managing or reducing delivery costs has long been a challenge. 
Descartes' sophisticated delivery appointment scheduling enables companies to achieve both goals seamlessly. The solution dynamically and uniquely creates delivery appointment options in real time that considers real-world constraints (e.g., road networks, operating policies).  
The scored options are feasible and the seller can determine which ones to present to the customer to manage their delivery costs. There is almost infinite flexibility in the options that can be presented.  
Features
Delivery options are individually scored based on a number of factors (e.g. costs and service) that allow the seller to determine which options they want to present to customers.
The unique options are generated instantaneously during the customer buying process. 
The solution considers the road network, business constraints, and existing deliveries to only present viable delivery options. 
Determine how far in advance new deliveries can be added to a driver's route based upon their current progress.
Identify low travel distance delivery options that are environmentally friendly and more cost-effective.  
Integrated End-to-End Footprints
From dynamic delivery appointment scheduling through physical delivery, manage all aspects of the delivery lifecycle including customer engagement. 
Chris McShane, Director, Strategy, Transformation & Business Development
---
"As part of our innovative ecommerce-based mobile tire replacement service, we wanted to more accurately reflect the logistics cost of the mobile service when customers were booking service appointments and balance demand with our ability to serve customers."
Fleet Resource Center
Expand Your Routing, Mobile & Telematics Knowledge
Additional Resources
---
Descartes Home Delivery
Leading Retailers Can Provide their Customers with a Highly-differentiated Buying and Delivery Experience
Home Delivery for Retailers
Retailers are not just competing on products, since many offer the same brands. They are competing now on availability, convenience, and service
Delivery Appointment Scheduling FAQs
What does delivery appointment scheduling mean?
Delivery appointment scheduling is the process of setting specific time slots or appointments for the delivery of goods to a customer.
What is delivery scheduling software?
Delivery scheduling software allows companies to model delivery networks and operating restrictions and policies to automate, optimize and streamline the process of planning and creating delivery routes.
Looking to meet with a solution expert?