Evolution is the premier event that gathers together Descartes customers and business partners from around the world to network with each other, meet the Descartes product management team, provide input and feedback on Descartes' product direction, and to learn more about opportunities for improving operations through the growing portfolio of Descartes solutions.
Evolution 2018
We're pleased to announce that our next event will take place in West Palm Beach from Tuesday, March 6 through Thursday, March 8, 2018. It's our 3rd year at the Hilton West Palm Beach, located within walking distance of the charming CityPlace for shopping and dining, 2 miles from Palm Beach and a short 3 miles from the Palm Beach International Airport.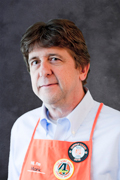 Home Depot Keynote Address!
We're thrilled to announce that our keynote address will be delivered by Mark Holifield, Home Depot's Executive Vice President, Supply Chain and Product Development. Mark will share insights from Home Depot's monumental supply chain transformation in response to the ongoing impact of ecommerce on the logistics and supply chain industry. He will highlight some of Home Depot's strategies for success in a quickly changing business and consumer landscape.
Why Attend
Evolution 2018 provides a forum for the Descartes customer community to:
Learn
See product demonstrations at the Descartes technology fair and learn more about the breadth and depth of Descartes solutions.
Attend in-depth user training sessions and learn how to get more from your Descartes solutions.
Learn about future logistics and supply chain trends and how Descartes solutions can help you capitalize on them.
Network
Network and share best practices with other Descartes users.
Connect with our United by Design partner community, see product demonstrations and learn how our combined solutions deliver results.
Share
Meet with Descartes product management and provide input on future product development plans.
Evolution is a customer-driven event. Descartes' Global User Group Steering Committee, comprising annually elected representatives from customer companies, helps to set the direction of the event and collaborates with Descartes to develop the program. If you are a Descartes customer and would like to speak or have program recommendations, please contact usergroup@descartes.com.
Highlights from Evolution 2017
View the video, Descartes Evolution 2017 Global User & Partner Conference, on YouTube.
This page is also available in: