Transportation Management
The Advanced and Flexible International Transportation Management Solution You Need
Regardless of whether your supply chain is international or domestic, effectively managing the purchased transportation process to reduce complexity, improve control, and reduce costs is essential. Descartes' next generation transportation management solutions are fast to implement, easy-to-use and maintain, deliver high value, and support inter-enterprise collaboration between shippers and carriers.  Our platform is unique because of its broad capabilities to best manage the flow of freight with unmatched connectivity to thousands of transportation providers, built-in mode specific functionality, integrated private fleet/for hire transportation management, seamless integration with cross-border customs compliance, and much more.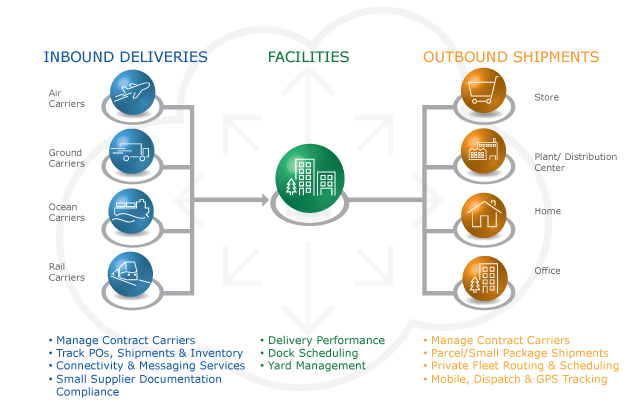 Descartes provides robust, network-based, modular, end-to-end multimodal functionality that spans the entire shipment lifecycle. We streamline and enhance your ability to turn purchase or sales order fulfillment into transport orders, manage carrier contracts, optimize and execute transportation plans, connect to trading partners, control the flow of prepaid freight, track shipments and inventory, audit freight and manage supplier/carrier performance. Benefit from better control of your freight operations, reduced complexity and cost while supporting growth and competitive differentiation.
Descartes' Transportation Management suite addresses unique requirements across truck, air, ocean or parcel modes with a modular architecture that can be implemented quickly as a whole, or only in the select areas where you need the greatest help now. Additionally, the Descartes Global Logistics Network™  accelerates time-to-value with pre-existing network connections to trading partners.
Descartes' solutions support end-to-end processes transportation professionals to:
Manage carriers and transportation contracts
Configure route guides and quote/rate shipments
Plan and optimize shipments
Evaluate and select the right mode and carrier combinations including private/dedicated fleet integration
Streamline warehousing operations with dock appointment scheduling and yard management
Track shipments to improve visibility and manage performance
Support supplier and  carrier compliance programs
Audit and settle freight bills to improve the "financial supply chain"
Descartes'  Transportation Management solution capabilities include: