Improve Screening Efficiency and Effectiveness with a Comprehensive Source of Government Watch Lists
---
Support Your Organization's Compliance Initiatives with Descartes Denied Party Screening Knowledge and Resource Centers
---
Automated Screening
See how integrating denied party screening with existing business programs can help you do more with less.
Enhanced Risk Management
Extend your compliance program with Sanctioned Party Ownership, OFAC 50% rule, PEPs, and Adverse Media
Flexible Cloud-based Solutions Make Getting Started Simple and Scalable
---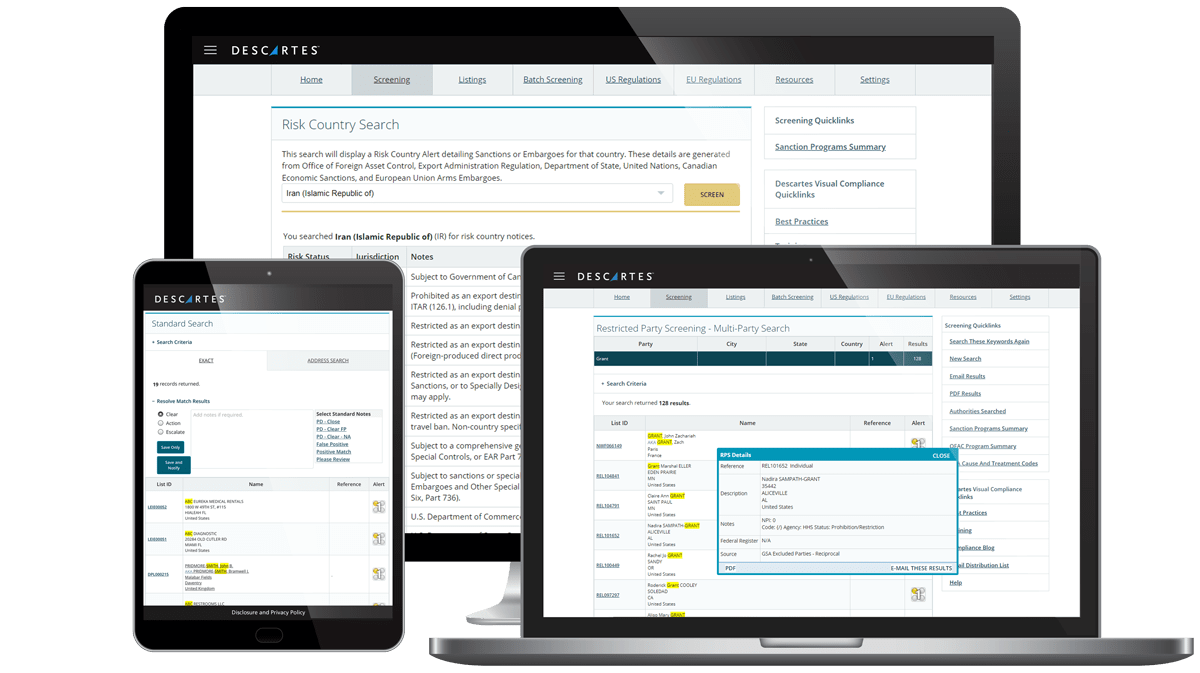 Advanced Capabilities Set Descartes Apart
---
Configurable search options
Screening isn't one-size-fits-all. Tailor lists, alert levels and other screening parameters that best meet trade compliance objectives.
Multiple screening methods
Screen one party or up to five, or go with bulk, integrated screening, and daily rescreening capabilities — these are just a few options available.
Advanced workflows for compliance professionals
Help keep the supply chain moving by giving those tasked with compliance oversight a bird's eye view across the organization.
Makes trade compliance easy for everyone
Whether screening ad hoc or integrated into a business system—results are returned in real-time, and potential matches escalated at the click of a button.
Get started in days and scale as your needs evolve
In some cases, organizations can be set up within hours. Our modular offering enables you to choose the solutions that best meet current screening needs—then add further applications whenever the requirements change.
Easily move between different trade compliance solutions, from multiple screening methods, compliance workflows, export license and documentation applications, and more. — Erick Wallace, Corporate Export Compliance Manager, Reliance Steel & Aluminum Co.
---
"Descartes has managed to save us nearly 28,000 man-hours per year, and reduce our compliance risk exposure."
Ready to see Descartes Denied Party Screening in action? 
---

— Jonathan Prignac Director, Business Systems - Commercial & Corporate Affairs, Meggitt PLC
---
"Automated screening with Descartes Visual Compliance gives us a high level of confidence regarding compliance and due diligence, both on a day-to-day basis and when entering new markets or signing up new partners. And by integrating the Descartes system into our other business processes, we not only reduced the burden on our organization to do these processes manually, but we've improved compliance."
Looking to meet with a solution expert?