---
Route Execution & Fleet Performance Management
Plan vs Actual Fleet Performance
Establish a virtuous feedback loop for enhancing delivery, spotting deviations, and driving ongoing fleet performance improvement.
Route Execution and Fleet Performance Management Help You Manage Delivery Operations, Track Performance in Real-Time, and Gain the Insight to Make Improvements
---
In the end, results are the only thing that matters, and route execution and fleet performance management are essential to achieving them.
Dispatchers and managers can view and manage routes in execution in real-time with graphical, easy-to-understand views and alerts..
Gain deeper insights into operational performance and apply AI for improved results.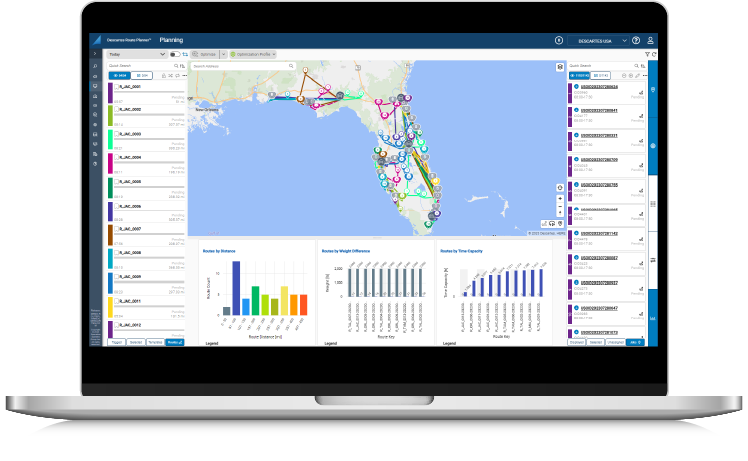 Get the Information that Matters, Including:
How your drivers are performing in real-time.

ETAs of pending deliveries.

Planned versus actual fleet performance.

Whether your fleet is meeting customer service level agreements.
Manage:
Deliveries in real-time.


Disruptions.


Driver performance.
Get Better Visibility & Control of Your Fleet Operations

— Scott Dushane, Director of IT at Fairmount Tire 
---
"In our highly competitive industry, Descartes has helped us change the game, propelling our 65-year-old family-owned-and-operated company past time-consuming, paper-intensive manual delivery practices and into a high-performing, data-driven, and customer-focused business."  
Fleet Resource Center
Expand Your Routing, Mobile & Telematics Knowledge
Additional Resources
---
Customer Success: SIG plc
SIG improves customer experience and fleet productivity with Descartes' planning, execution, and mobile solution.
Customer Success: Martins Atacadista
Martins Atacadista achieves fleet-wide fuel savings and better delivery performance.
Route Execution & Fleet Performance Management FAQ
What is fleet performance management?
Fleet performance management refers to the process of monitoring, optimizing, and maintaining the efficiency and effectiveness of fleet operations, including drivers and vehicles, to maximize fleet productivity and customer experience today and identify ways to improve them in the future.
How do you measure fleet performance?
Fleet performance is measured through various metrics such as miles/delivery, driver hours, use of overtime, number of vehicles, route and delivery window compliance, fuel efficiency, maintenance costs, and vehicle utilization to assess the operational effectiveness and financial health of a fleet.
Looking to meet with a solution expert?