---
Product Classification and Duty Determination
White Paper
See how Artificial Intelligence Can Improve Trade Compliance Processes
Meggitt PLC
Learn how Meggitt PLC is automating customs and product classification processes with Descartes CustomsInfo.
Improve Compliance While Reducing Duty Spend with a Comprehensive Repository of HTS Codes, Duty Rates, Tariffs, Binding Rulings, Trade Agreements and Regulations
---
Achieve better product classification, valuation from a comprehensive library of duty, tax, tariff, and free trade data
Global Trade Intelligence Workbench
Enhance classification performance with a powerful trade management workbench that provides workflow management, document storage and audit recording
Trade Data for Oracle GTM
Descartes helps power Oracle GTM with accurate, up-to-date duty and classification data
Descartes helps power SAP GTS with accurate, up-to-date duty and product classification data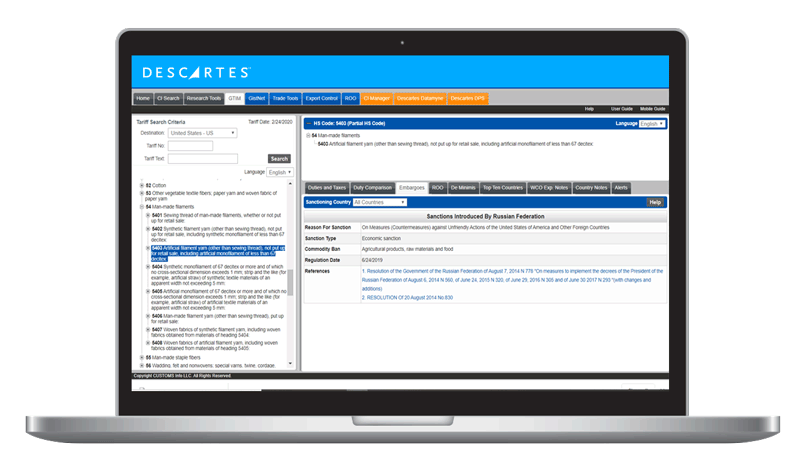 Descartes enables automated global item classification, duty management and record-keeping for each step in the compliance workflow.
Descartes' Global Trade Compliance Solution — the single source for the reliable, up-to-date trade data needed for global supply chains to thrive.
Helping Businesses Across Industries to Classify More Efficiently
Effective and timely global tariff code lookup and regulatory research are challenges for many businesses that move goods across borders. Improve the accuracy of your HTS Code determination, while reducing time spent on classification with Descartes Product Classification & Duty Determination.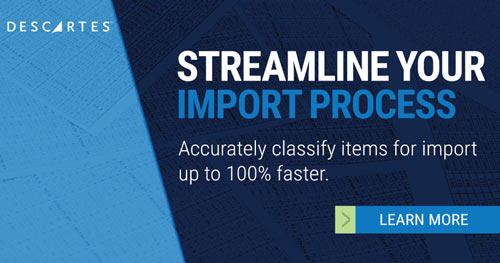 — Jonathan Priganc Director, Business Systems - Commercial & Corporate Affairs Meggitt PLC
---
"Descartes CustomsInfo has all the up-to-date trade and tariff content we need in one place—from HTS, ECCN and USML classification data to rules of origin and trade regulations—and it integrates seamlessly with our SAP GTS for a completely automated solution. I consider Descartes a key partner for us as we look to build out our compliance programs and expand trade to new countries."
Ready to See Descartes Product Classification & Duty Determination in action?
---
Additional Resources
---
Looking to meet with a solution expert?