Warehouse and Shipping Solutions for NetSuite
---
Descartes Commerce Essentials bundle for NetSuite leverages scanner-based processes and automated shipping workflows to improve the performance of your warehouse and shipping operations.
Improve Inventory Accuracy using Barcode Scanning
Provide accurate, up-to-date inventory information and ensure that the right items leave your warehouse by using barcode scanning
Improve Warehouse Efficiency with a Mobile Warehouse Management Application
Support inventory management processes to improve fulfillment productivity and accuracy, including receiving goods, picking strategies and returns management with a mobile warehouse application
Automate Shipping with Integrated Workflows
Automate data exchange with fully integrated "Ship with ShipRush" menu in NetSuite, allowing for seamless and easy shipping
Rate Shop and Reduce Shipping Costs
Integration with ShipRush provides built-in rate discounts from USPS, UPS, FedEx and others, while allowing side-by-side rate & service comparison in real-time
Descartes Commerce Essentials Syncs Fulfillment Data Directly Into NetSuite
---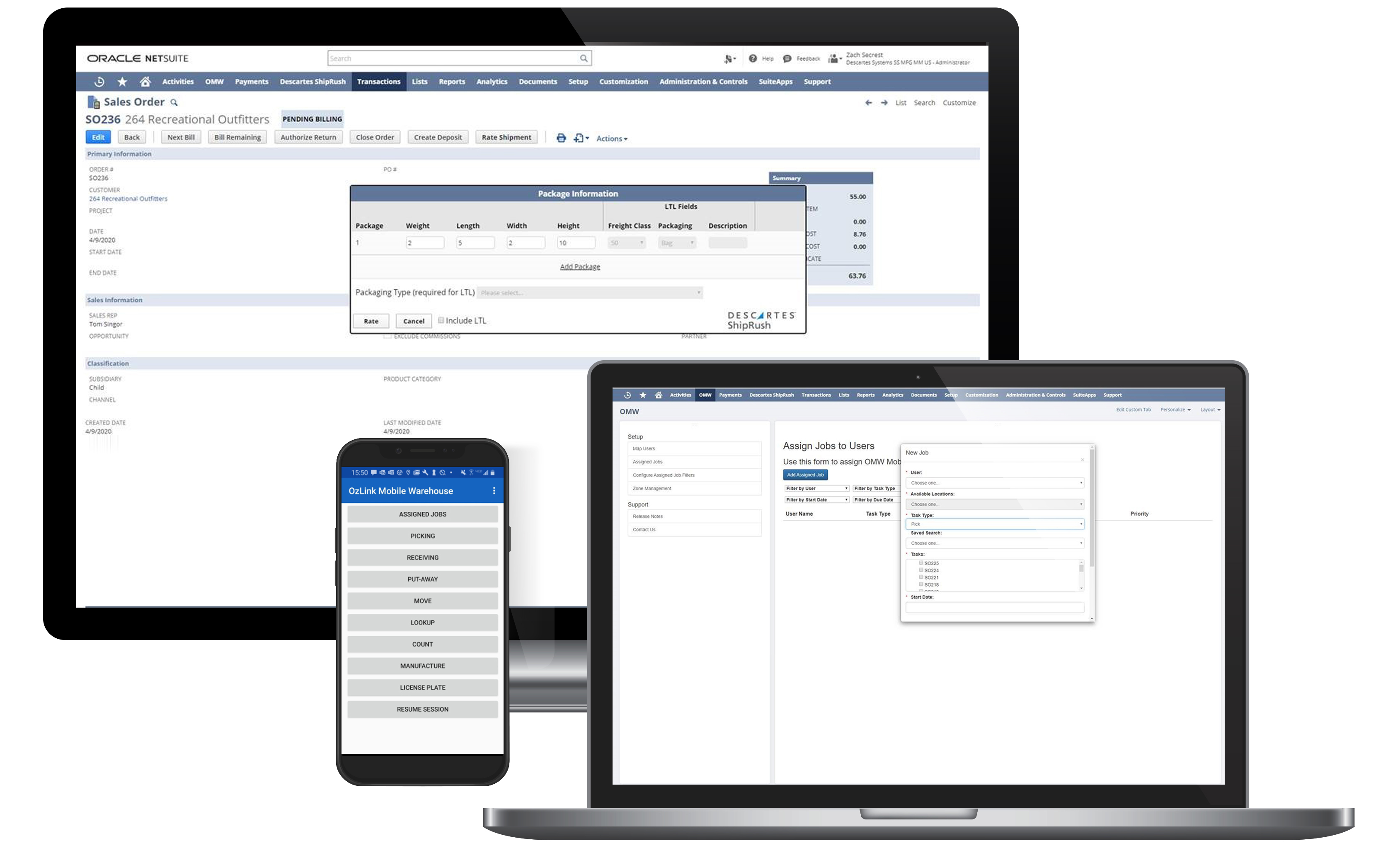 Increase picking and packing productivity
Improve pick processes and visibility to component picking and assembly performance
Increase picking volume without adding warehouse labor
Reduce pick time with efficient pick routes
Reduce excess inventory and partial ships with improved inventory control
Manage shipping while reducing shipping costs by rate shopping directly in NetSuite

— Lana Appleby, Technical Product Manager, Dahlgren Duck
---
"Descartes delivers the picking efficiency, scalability, and packing and shipping verification we were lacking. While the size and complexity of orders vary greatly, the solution has helped us to increase order accuracy, cut fulfillment cycles, and improve warehouse performance while meeting the exacting standards of our clients."
"When COVID-19 hit and ecommerce orders jumped from 40% to 90% of our total volume, our seven-person DC team was able to handle this radical shift without issue, even offering same-day shipping."
— Mary Jane Alvarenga, DC Operations Manager at Mountain Khakis
"Using Descartes to automate fulfillment processes, we can now ship larger volumes of products without adding shipping or clerical personal. The solution connects our backend accounting systems to our online sales channels to support both LTL freight and parcel shipping."
— Dell Skluzak, CEO at The PipeKnife Company
Ready to see Descartes Commerce Essentials for NetSuite™ in action?
---
Additional Resources
---
New Feature: Bin Count
Implement reliable inventory control using Bin Count from Descartes Commerce Essentials
Customer Success: Dia Foot
By automating the labelling and shipping process, Dia Foot increased productivity, reduced order errors, and improved the customer experience.
Descartes Mobile Warehouse for NetSuite™
Optimized Receiving, Picking, Packing & Shipping – Built for NetSuite
Looking to meet with a solution expert?