---
Descartes Mobile Warehouse for NetSuite™
Blue Sky - Success Story
Blue Sky chose Descartes OzLink™ to manage demand with Optimized Order Fulfillment
Box Components - Success Story
Box Components chose Descartes OzLink to provide warehouse management for ecommerce order fulfillment
Optimized Receiving, Picking, Packing & Shipping – Built for NetSuite
---
With mobile and barcode-enabled workflow, Descartes Mobile Warehouse for NetSuite enables users to streamline goods receipt and inventory movement processes, and more accurately and efficiently pick orders.
Full wireless mobility with real-time NetSuite connectivity
Pick, Pack, Ship Optimization
Directed wave based and walk route optimized picking
Special Industry Processes
Supports Fifo/Lifo/Fefo based picking, full lot and serial numbers
Build, move, pick with a pallet license plate
Inbound Logistics and Returns
Streamline receiving purchase and transfer orders, and customer returns processing
Replenish inventory into picking bins from other storage locations
Enable inventory counting and movement tracking, provide inventory look-up and updates
Descartes Provides Innovative Fulfillment Solutions - Designed for NetSuite
---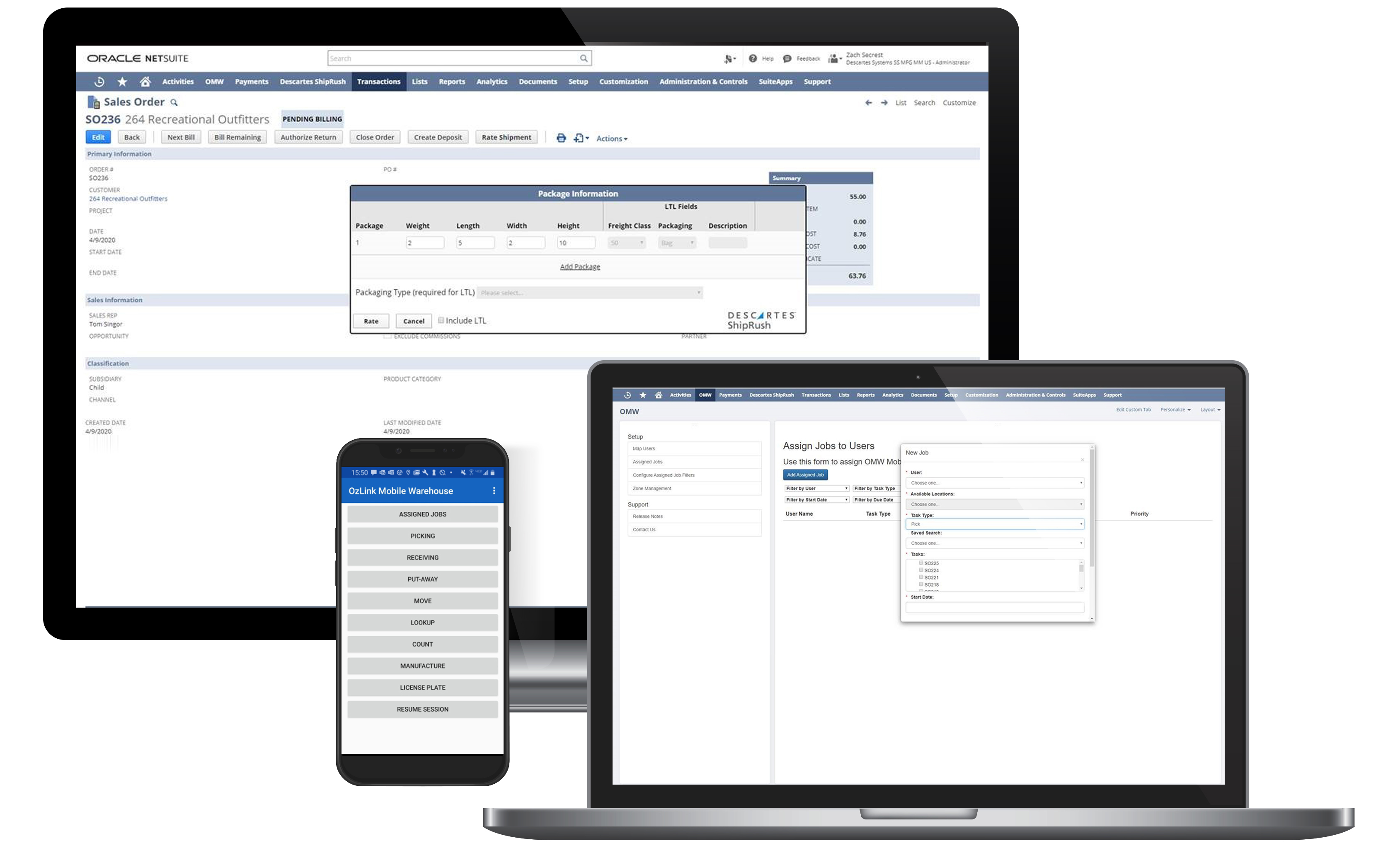 Reduce receiving and product availability for sale times
Increase picking and packing productivity
Improve pick processes and visibility to component picking and assembly performance
Reduce pick time with efficient pick routes
Reduce excess inventory and partial ships with improved inventory control

— Lana Appleby, Technical Product Manager, Dahlgren Duck
---
"Descartes OzLink delivers the picking efficiency, scalability, and packing and shipping verification we were lacking. While the size and complexity of orders vary greatly, the solution has helped us to increase order accuracy, cut fulfillment cycles, and improve warehouse performance while meeting the exacting standards of our clients."
"We've achieved a huge boost in productivity by 80%." 
— Martin Kudo, WMS IT Manager, Incipio
"We achieved a 75%-95% improvement in processing time in comparison with inefficient manual, paper-based system."
— Robin Walck, Co-owner, Walck's 4 Wheel Drive
Ready to see Descartes Mobile Warehouse for NetSuite™ in action?
---
Additional Resources
---
Descartes Commerce Essentials for NetSuite
Deliver an outstanding customer experience by automating warehouse and shipping processes
eBook: Counter the Costs of Ecommerce Returns
Download a free interactive eBook that details how to get returns right in the warehouse
Customer Success - Dia Foot
Automation drives fulfillment throughput for diabetic footwear and orthotics supplier
Looking to meet with a solution expert?