Meet Current Regulations While Operating a More Productive Fleet
---
Comply with ELD, HOS, IFTA, DVIR, and EU Working Time Directive while monitoring vehicle performance and driver behavior to improve efficiency and safety.
Stay on top of regulatory mandates with integrated HOS, ELD, IFTA, and DVIR tools drivers' hours law and tachograph solutions for North America the UK and European Union
Improve driver behavior through advanced visibility and reporting of driver on-road activity that can educate and reinforce safety and performance best practices
Vehicle Inspection and Performance
Improve safety and reduce vehicle operating costs with mobile-based pre- and post-trip vehicle inspections, and real-time vehicle diagnostics, scorecards and reporting
Route Execution & Analytics Integration
Use pre-integrated real-time telematics data to enhance dispatch and tracking performance and capture ongoing operational data to spot trends and support continuous improvement
Capture Important Vehicle and Driver Operating Data to Ensure Compliance and Improve Fleet Performance
---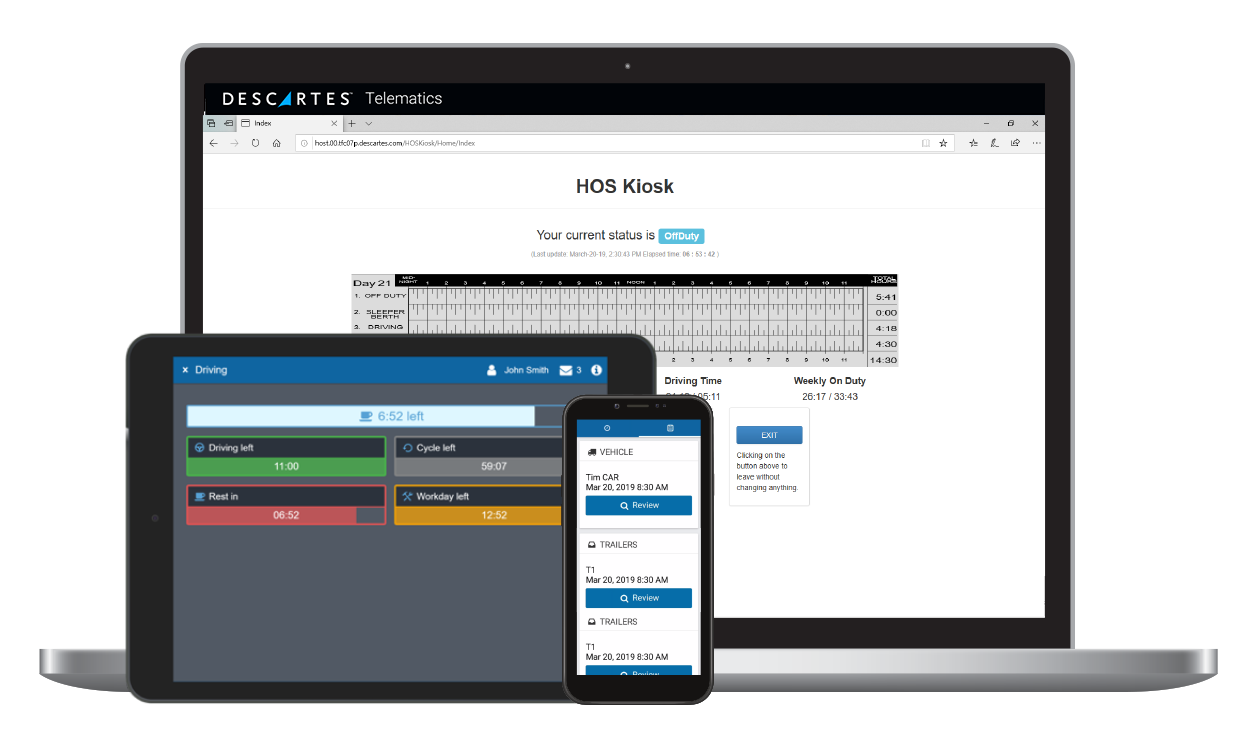 As the regulatory environment evolves, it is critical to keep current with the requirements. Descartes' broad suite of compliance solutions enables fleet operators to more easily comply, allowing them to focus more on serving customers rather than worrying about transportation regulations.
Aggressive driving and excessive idling wastes fuel, causes unnecessary vehicle wear and tear, and can lead to accidents. Descartes' telematics-enabled monitoring can help identify poor driver performance and enable your fleet to operate at its best. 
Descartes' telematics and compliance solutions are integrated with our advanced route planning and execution capabilities to maximize the potential of your fleet.

— Melissa Palton, Manager of Transportation Systems at Linehaul Operations at Purolator
---
"Early adoption has enabled us to streamline compliance with HOS guidelines and position our fleet ahead of the curve with insights and best practices for implementing and maximizing the value of telematics. With Descartes, we've eliminated manual driver logs, reduced costly errors, and streamlined compliance with an easy-to-use, fully-automated system that our drivers are confident using."
Fleet Resource Center
Expand Your Routing, Mobile & Telematics Knowledge
Additional Resources
---
Animation: Canadian ELD Mandate
That's why we're here. We want to help make Transport Canada's upcoming hours of service guidelines easy for you to understand and even easier to comply with.
Descartes SmartCompliance
View our portfolio of applications designed to help road transport operators in Europe comply with complex rules and regulations.
Looking to meet with a solution expert?