Manage Rates & Present Them to Customers
Provide Customer Self-service Rating, Increase Revenue & Refocus Resources on Higher Value Services
---

Achieve a Rapid Time-to-Benefit with Digital Customer Rating & Booking
Today's customers want competitive rates and to book and rate on-demand. Innovative forwarders are delivering the digital self-service booking and rating experience that customers expect and are deploying it quickly through Descartes best-in-class technology.
Descartes Digital Rate Management™ solution is a rapid-to-deploy technology suite that is already connected with the world's leading carriers. Descartes helps forwarders achieve a rapid time-to-benefit with a seamless transition or integration with from existing platforms.

— Wilson Huang, Head of Product & Marketing, AMC Transportation
---
"Descartes has been exceptional in providing our clients with easy access to book and quote shipments—all without the manual effort of emailing or calling us."
Download Our Buyer's Guide
Are your customers online? Do they want to receive quotes quickly? Has it become inefficient to manage rates manually? Are you looking to ensure that services are priced correctly to maximize margins? Do you want to enable customers to easily book, rate, ship, and track on-demand?
These are the pointed questions that Logistics Service Providers (LSPs) are asking, and why we created an innovative technology called Descartes Digital Rate Management™, a leading-edge solution that allows LSPs to provide an online quoting, booking, and tracking experience while ensuring the highest profit margin per file.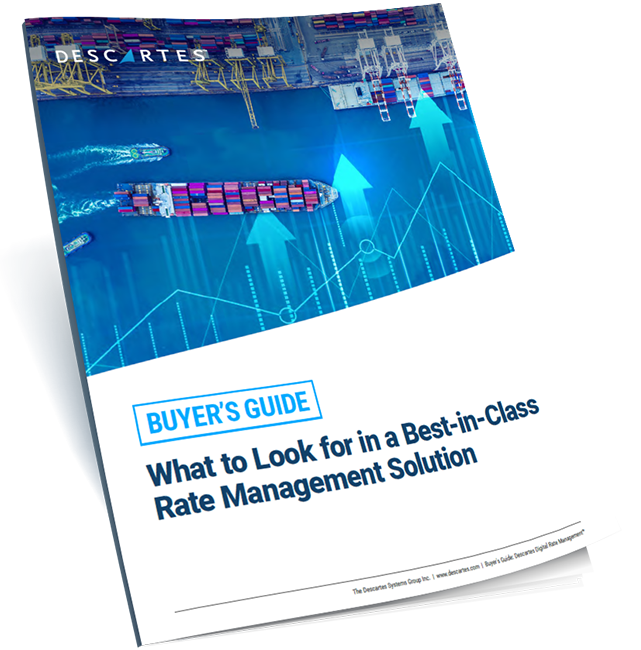 — Christian van Eeden, VP, Transformation Architecture, Hellman Worldwide Logistics
---
"Being able to leverage the expertise of Descartes is a huge bonus for us. The pricing component is central to our customers' journey. "
Looking to meet with a solution expert? 
Looking to meet with a solution expert?