Verminder het risico op zakendoen met gesanctioneerde partijen door gebruik te maken van een wereldwijde kennisbank.
---
Bulk screening
Gelijktijdig al uw contacten screenen met behulp van lijsten met uitgesloten partijen.
Uitgesloten handelspartners
Integreer inhoud over uitgesloten partijen in bestaande systemen om risico's te beperken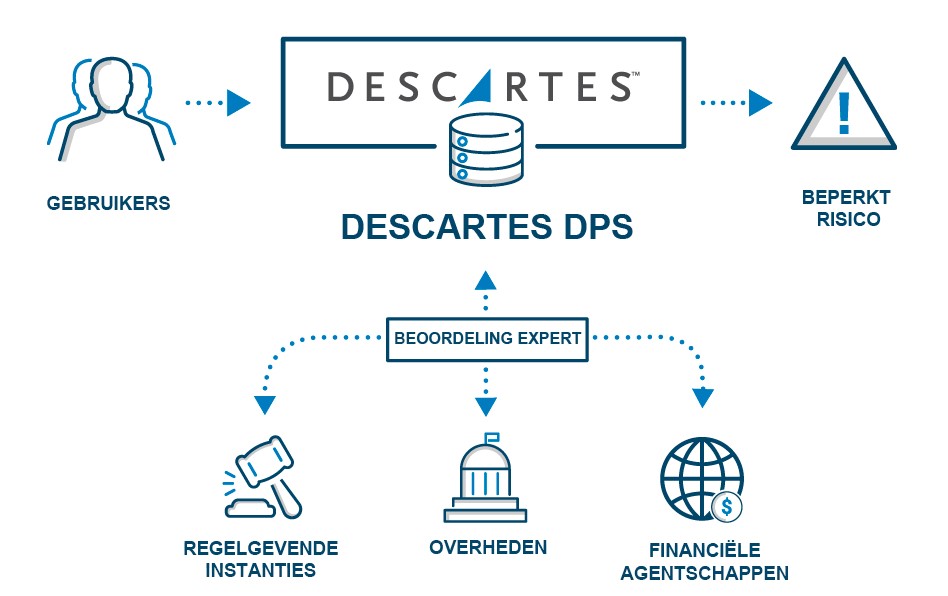 De screening van uitgesloten partijen is de beoordeling van goederen, diensten en connectiviteit voorafgaand aan import, export of transactie. Overheden en internationale organisaties houden verschillende lijsten bij van mensen, organisaties en landen waarmee zaken doen verboden of beperkt is. Het internationale sanctiebeleid is dynamisch, en binnen de huidige markt met een sterk netwerk is het van cruciaal belang om de connectiviteit te evalueren voordat er zaken worden gedaan. Toegang tot betaalbare, flexibele en aanpasbare diensten en oplossingen voor het screenen van uitgesloten partijen (DPS= Denied Party Screening) is noodzakelijk om ondernemingen te beschermen en risico's te beperken in een immer geconnecteerde en wereldwijde markt.
De oplossing Descartes Denied Party Screening™ biedt organisaties van elke omvang gebruiksvriendelijke opties waarmee klanten, leveranciers en handelspartners snel en efficiënt kunnen worden gescreend aan de hand van een uitgebreide database met internationale lijsten met beperkte en uitgesloten partijen. Klanten kunnen screeningprocessen aanpassen aan hun unieke risicoparameters en potentiële nalevingsproblemen markeren om ze snel te kunnen oplossen. Opties om gegevens te integreren in systemen zoals SAP, Oracle, NetSuite, enz. zijn beschikbaar om de risico's over de activiteiten heen te beperken.
Aanvullende informatie over Denied Party Screening
---

— Peter Miller, Global Trade Compliance Manager, Emerald Performance Materials
---
"Descartes maakt het mogelijk om eenvoudig onze scope uit te breiden en wereldwijd screening uit te voeren."
Wilt u zien hoe Denied Party Screening werkt? 
---
Bronnen
---
Customer Success Story
Learn how spice manufacturer McCormick reduces risk worldwide with Descartes DPS solution
White Paper
How Industry Leaders Are Using Screening Solutions to Keep Compliant