Enhance Fleet and Field Team Performance with Integrated Mobile Applications
---
Eliminate paper-based processes, empower drivers, improve delivery and data accuracy, confirm chain-of-custody, reduce labor costs, accelerate billing cycles and enhance overall customer experience.
Improve driver productivity with optimized routes, electronic manifests and turn-by-turn commercial navigation
Automatic Vehicle Location (AVL)
GPS-enabled tracking to monitor route execution in real-time, generate AI-based ETAs and analyze plan vs. actual performance
Enable dispatchers and drivers to easily and automatically provide updates to route statuses and deliveries
Eliminate paper, reduce OS&D, invoice disputes and credits with robust at-stop data collection that supports signature/photo capture, scan-on/scan-off capabilities
Descartes supports a wide range of commercial and consumer grade devices. Descartes mobile apps are readily available on the Apple App Store and Google Play Store.
Descartes' Innovative Mobile Solutions Can Help Businesses Increase Productivity by 5-20%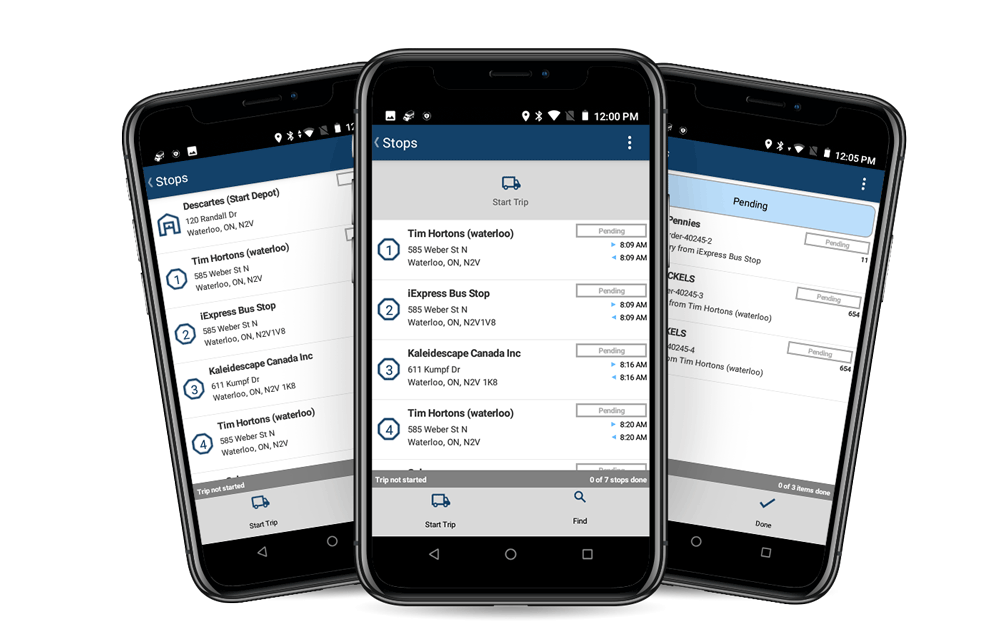 Descartes Mobile Applications helps provide drivers and field personnel with the information, workflows, and decision support tools needed to optimally do their jobs in the field. We support a broad range of devices and capabilities ranging from route execution, scan on and scan off orders, picture and signature capture, and final invoice generation.
Fleet Resource Center
Expand Your Routing, Mobile & Telematics Knowledge
Additional Resources
---
Improving Your Bottom Line
If improving order to cash is a priority for your company, it's important to implement paperless processes.
WESCO Customer Success
"Electrifying Last Mile Delivery" - Jeff Mandell, Transportation Manager at WESCO talks about using Descartes Mobile for proof of delivery and how it helped reduce costs.
Evaluate Your Delivery Strategy
Mobile Technology Adoption – The Weakest Link in Your Delivery Strategy?
Looking to meet with a solution expert?