---
Product Classification and Duty Determination
White Paper
See how Artificial Intelligence Can Improve Trade Compliance Processes
Customer Success Story
Vigilant Improves Supply Chain Velocity & Visibility with Descartes Global Trade Intelligence Solutions
Improve Compliance While Reducing Duty Spend with a Comprehensive Repository of HTS Codes, Duty Rates, Tariffs, Binding Rulings, Trade Agreements and Regulations
---
Achieve better item classification, valuation from a comprehensive library of duty, tax, tariff, and free trade data
Global Trade Intelligence Workbench
Enhance classification performance with a powerful trade management workbench that provides workflow management, document storage and audit recording
Trade Data for Oracle GTM
Descartes helps power Oracle GTM with accurate, up-to-date duty and classification data
Descartes helps power SAP GTS with accurate, up-to-date duty and classification data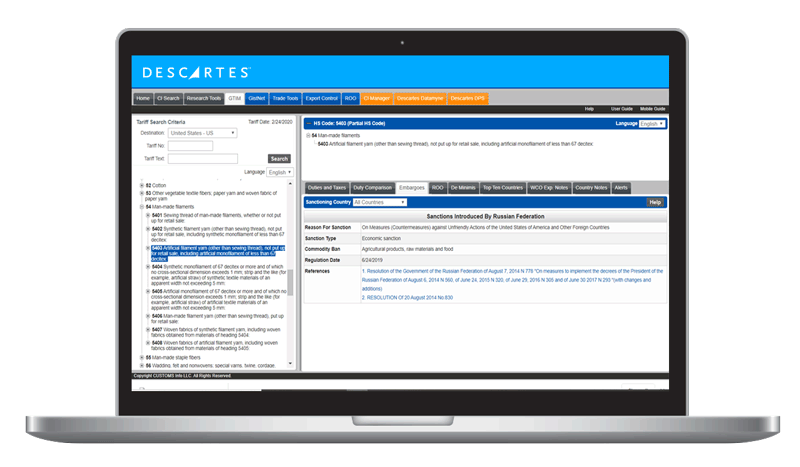 Descartes enables automated global item classification, duty management and record-keeping for each step in the compliance workflow.
Descartes' Global Trade Compliance Solution — the single source for the reliable, up-to-date trade data needed for global supply chains to thrive.
Helping Businesses Across Industries to Classify More Efficiently
Effective and timely global tariff code lookup and regulatory research are challenges for many businesses that move goods across borders. Improve the accuracy of your HTS Code determination, while reducing time spent on classification with Descartes Product Classification & Duty Determination.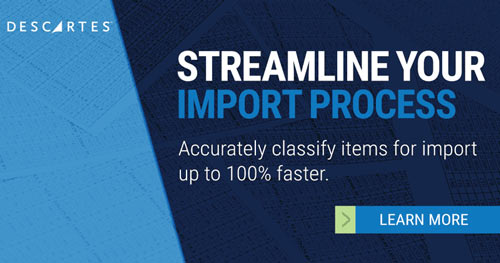 — Derek Abramovitch, Partner and Chief Relationship Officer, Vigilant
---
"Descartes helps us provide comprehensive and scalable solutions in support of worldwide product classifications, customs compliance, free trade agreements and denied party screening, which evolve over time to meet constantly changing compliance requirements."
Ready to See Descartes Product Classification & Duty Determination in action?
---
Additional Resources
---
Looking to meet with a solution expert?