Why Visibility Matters
Freight Visibility is Important - Understand the competitive advantages & benefits
Improve Control & Deliver Exceptional Service with Real-time Tracking and ETAs Across Transportation Modes and Borders
---
For manufacturers, retailers and distributors, Descartes can provide a comprehensive visibility and a control tower view across supply chain operations from purchase order to proof of delivery.
Descartes enables LSPs to offer real-time visibility as a differentiating, valued-added service to end-customers while helping improve control of transportation operations and costs.
Integrated View of Transportation, Inventory, Customs Status, and Carrier/Supplier Performance
---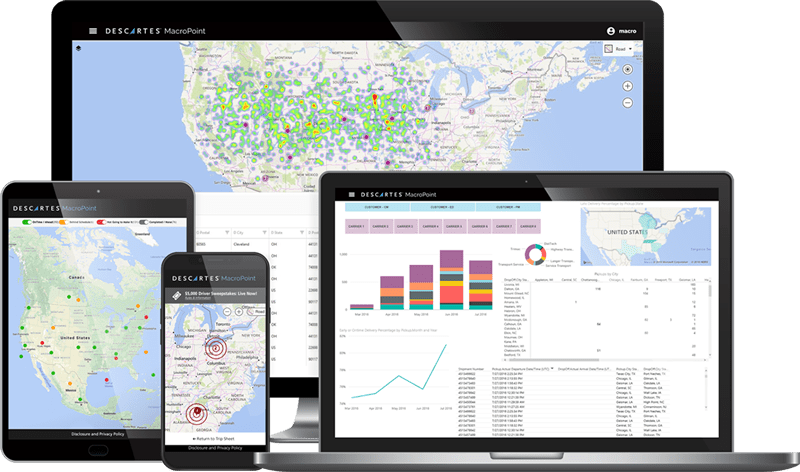 Descartes integrated visibility platform is powered by The Descartes Global Logistics Network™ (Descartes GLN™), the world's largest network of carriers and trading partners. By leveraging the Descartes GLN, shippers and logistics services providers can view, track and analyze shipment data.
Customer Success
---
Verso Corporation Verso Corporation is a leading American-owned and operated producer of graphic, specialty, and packaging paper and market pulp, with a long-standing reputation for quality and reliability.
Coyote Logistics, a UPS Company, has deployed the Descartes MacroPoint™ freight visibility solution to enhance shipment visibility. — Perry Falk, Senior Vice President, Carrier Operations at Nolan Transportation Group
---
"Descartes MacroPoint is a vital piece of both our carrier and customer operations at Nolan Transportation Group. Our customers can opt to get real-time visibility on every shipment we move. The drivers for our carriers can provide location updates with minimal interactions while in-transit, leaving us with happier carriers who can focus on driving safely."
Ready to see a Descartes Real-time Freight Visibility Solution in action?
---
Additional Resources
---
Supply Chain Visibility
Albertsons improved inventory management to ensures product integrity with real-time visibility
Talking Logistics
Making a Difference: Talking Logistics Video Episode with Capital Logistics, Echo Global Logistics & Descartes
ACL Airshop Success Story
Modernizing Real-time Air Cargo Asset Tracking with ACL Airshop and Descartes
Looking to meet with a solution expert?