Automate and Proactively Manage Foreign Trade Zone and Bonded Warehouse Operations
---
Foreign trade zone (FTZ) and bonded warehouse operations in North America, Europe and the United Kingdom require precise and proactive management of customs-controlled inventory and movement. Whether you are a self-filing importer or logistics service provider offering value-added services, Descartes' FTZ software and bonded warehouse solutions can help businesses manage the entire customs-controlled inventory process. Our solutions provide robust functionality combined with rich content, rule-based integration tools and electronic connectivity across trading partners and regulatory government agencies.
Descartes Foreign Trade Zone Management Offers End-to-end Capabilities
---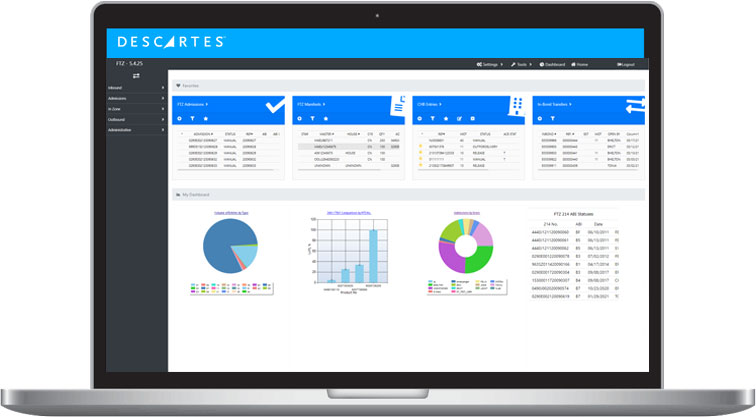 Integrated Solution for FTZ Operators and Tenants
Developed to meet the specific needs of FTZ operators and tenants, the Descartes FTZ solution unifies import, export, logistics, compliance and financial processes including filing with regulatory agencies (e.g. CBP), Harmonized Tariff Schedule classifications, export licensing, denied party screening, comprehensive product catalog, tracking, event management and international document repository. To further reduce data redundancy, the solution incorporates information-sharing capabilities with import, export, customs house brokers and freight forwarding components. Electronic connectivity to North American and European regulatory agencies enables seamless electronic customs document filing and clearance. The Descartes FTZ solution can be used with existing warehouse management solutions or one provided by Descartes.

---
— John Sell, Vice President of Retail & Transportation Solutions for MD Logistics
"Most FTZ software contemplates that the licensee, typically a manufacturer or importer, will be the only user. Descartes separates itself from all other vendors by offering a solution that already includes the logic whereby 3PLs can use the software to service multiple customers simultaneously. It is flexible, easily integrated and offers maximum automation, allowing us to handle high-volume clients. Compliance was a primary factor in selecting Descartes' FTZ solution."
Ready to see Descartes Foreign Trade Zone (FTZ) Management solutions in action?
---
Additional Resources
---
U.S. Section 321 Type 86 Resource Center
Learn how to take advantage of this customs entry type for low-value shipments
Looking to meet with a solution expert?