A Complete Route Planning, Optimization & Dispatch Solution to Maximize Fleet Performance and Customer Experience
In the competitive, fast-paced world of delivery, efficient route planning, optimization, and dispatch are critical for success. Descartes has a broad array of route planning and dispatching technologies to uniquely address the challenges distributors, retailers, and logistics companies face. 
By embracing Descartes' cloud-based solutions, companies of all sizes can transform their operational performance and customer experience. 
---
Identify what assets and resources will be required as well as which delivery strategies will best meet customer demand for the lowest cost. Differentiate your service offerings.
Operational Route Planning
Create the most efficient routes and on-time deliveries. Easily address changing customer demand and improve planner productivity.
Enable dispatchers to keep drivers on track and achieve more on-time deliveries with real-time GPS and dispatch optimization technology.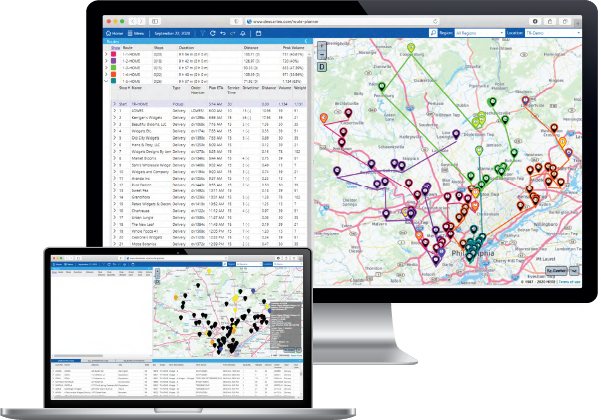 Get Transformative Planning Results With Descartes
Reduce Costs by 5-25% Compared to Legacy Routing Systems and Manual Processes
Rising customer demand, labor and fleet costs, regulations, and the driver shortage make it challenging for companies to be more profitable and grow. 
That's where Descartes comes in. We equip your planners, dispatchers, and operational management with the industry's most advanced and intuitive route planning solutions.  
With a track record of successfully helping to plan, optimize, and dispatch millions of routes annually, Descartes customers benefit from: 
Advanced route planning helps to minimize costs and increase delivery capacity.
Increased route density and asset utilization.


Responsive and reliable delivery performance.


Reduced planning time and resources.



Address a wide spectrum of planning requirements.




Seamlessly adapt and scale.


Improved performance with AI-driven automation.
Revolutionize your route planning process to meet the challenges of today's constantly changing delivery landscape. 

— Mark Parsons, Managing Director at BC Sands
---
"The Descartes solution is a unique and comprehensive platform. We could not find another last mile delivery solution that provides scheduling, delivery route planning and execution, proof-of-delivery, automated pre- and post-delivery notification services, and imaging functionality. It has fundamentally transformed our delivery operations."
Fleet Resource Center
Expand Your Routing, Mobile & Telematics Knowledge
Route Planning, Optimization & Dispatch FAQs
What is route planning and optimization?
Route planning and optimization is the process and use of related-technology to determine the combination of delivery routes and stop sequences that best meets organization cost and customer service objectives.
Why is optimized route planning better than manual route planning?
Optimized route planning is superior to manual planning because it can quickly evaluate more delivery route and stop sequences combinations to find the one that meets customer service requirements for the lowest cost.
Looking to meet with a solution expert?