The Most Comprehensive Transportation Management System in the Industry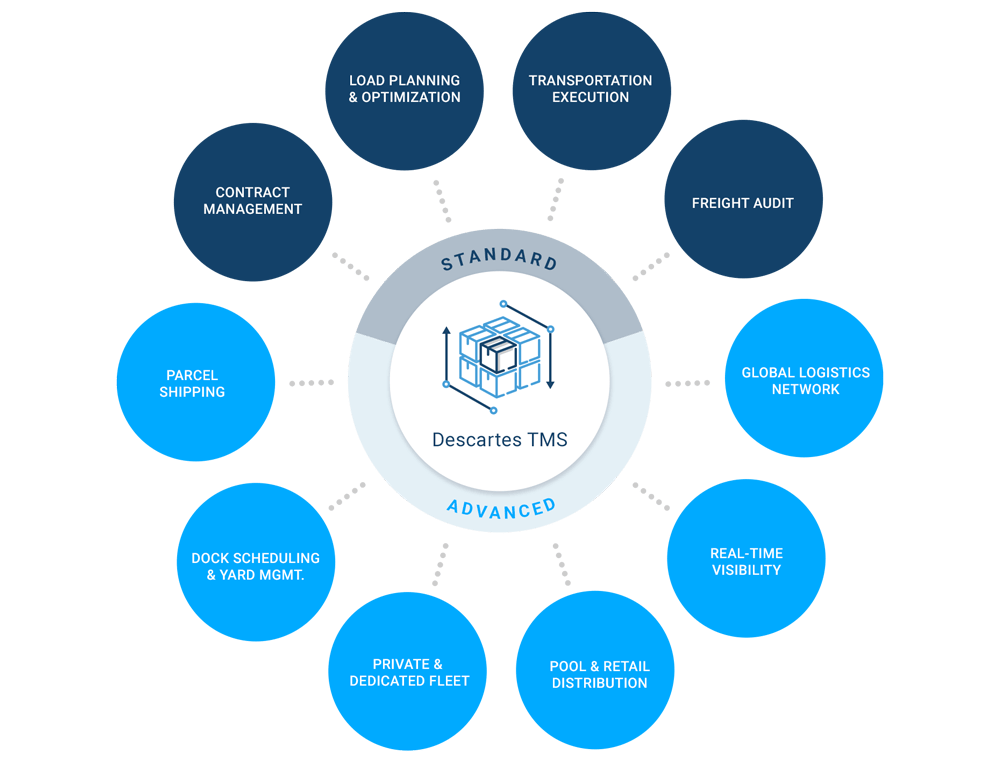 Standard Capabilities
---
Descartes' transportation management solution has all of the capabilities needed to synchronize transportation operations, control costs, and enhance service.
Create, edit, and manage agreements with carriers and other logistics services providers. Reduce administration overhead, improve compliance and enhance carrier relationships.
Load Planning & Optimization
Leverages advanced algorithms that automatically rate and optimally consolidate shipments across modes to reduce transportation costs and determine delivery dates.
Streamline and accelerate shipments through digital documentation and automation of the booking, tracking and POD processes using the world's largest multimodal messaging network, The Descartes Global Logistics Network™.
Automate the freight audit process to reduce payment processing costs and improve audit accuracy and reduce discrepancies.
Advanced Capabilities
---
Descartes provides extended capabilities needed to run today's multimodal transportation operations
Automate small package operations with rate and label compliance for hundreds of parcel and LTL carriers.
Dock Scheduling & Yard Management
Control the flow of traffic into and out of the distribution centers and gain visibility into inbound shipment and related purchase order status.
Private / Dedicated Fleet
Integrate purchased transportation and the fleet for improved operational flexibility, lower costs and better service.
Pool / Retail Distribution
Gain better visibility and control of shipments from distribution centers to stores.
Use GPS-based vehicle tracking to improve shipment visibility, proactively identify delivery disruption and project deliver time.
Descartes Global Logistics Network™
The world's largest multimodal logistics messaging network accelerates TMS time-to-value by connecting your logistics ecosystem.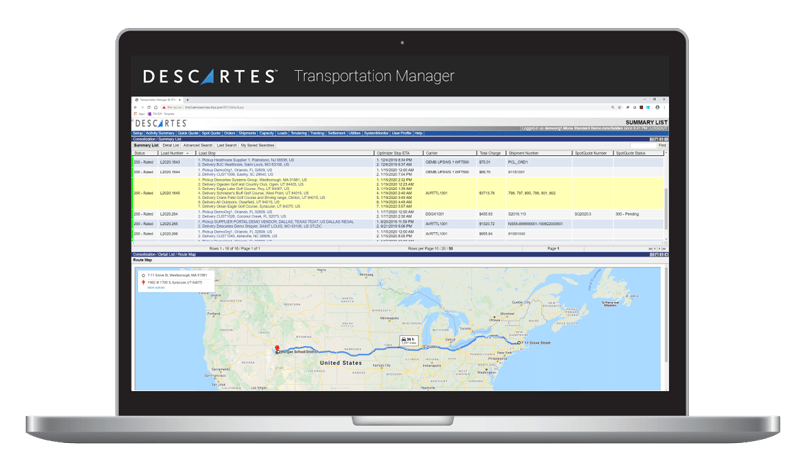 Rapid Time to Value
Transportation Management solutions from Descartes are modular and can be implemented in weeks rather than months. They provide the depth of standard capabilities you need and an incredibly broad array of advanced capabilities that help drive supply chain agility and competitive advantage.
---

–Jenifer Westergaard, Transportation Manager, The Vollrath Co.
---
"We work with 8-10 contract LTL carriers and do a lot of pooling or cross-docks. With optimized carrier selection, consolidation, and a real-time view of rates, we can offer more reliable service and keep costs in check. It's been a total game changer for us—and for our bottom line."
Ready to see Descartes' Transportation Management System in action?
---
Additional Resources
---
Actionable Visibility eBook
View, predict and communicate the status of shipments in real-time.
Customer Success - Bosch
The Descartes transportation management system is a multi-carrier-compliant enterprise logistics solution that provides efficient planning and execution of shipping and warehouse activities at touch points in the supply chain management process.
Looking to meet with a solution expert?