Building Supply & Construction
Industry Center
---
Descartes Reduces Delivery Costs and Turns Delivery Operations into a Competitive Weapon
Dynamic businesses such as the building trades put a premium on delivery performance to keep projects on schedule, costs down, and customers happy. Distributors have to be agile to quickly meet the constantly changing needs of contractors.
It's a never-ending cycle where contractors are requiring distributors to be more reactive, precise in their deliveries, and provide real-time delivery updates to optimize crew utilization. At the same time, distributors are looking for ways to reduce the costs of distribution operations and get the most productivity from their drivers and expensive delivery assets.
Descartes helps building material distribution companies dramatically improve delivery productivity and create a differentiated end-to-end customer experience that helps grow the top and bottom line. From small to large operations and simple to complex delivery requirements, Descartes can help distributors get the most from their delivery operations to homes and construction sites.
Smart delivery appointment scheduling for next and same-day deliveries that enhances the customer experience, increases revenue, lowers delivery costs, and is environmentally friendly.
Advanced optimized route planning software for construction combined with machine learning minimizes cost, maximizes capacity utilization, and minimizes the use of expensive specialty equipment.
Intelligent performance dashboard enhanced with machine learning and real-time GPS improves delivery visibility and reliability and reduces depot turnaround times.
Intuitive proof of delivery (POD), manifests, and navigation improve driver productivity and reduce stress and capture critical delivery location and material quantity and quality information.
Engage contractors from delivery appointment booking through real-time delivery tracking, POD details, and to allow contractors to optimize crew scheduling and utilization.
Safety, Compliance & Telematics
Help ensure driver and vehicle performance, enforce safe operations, and meet regulatory reporting requirements.
Power business intelligence combined with machine learning that provides deep insights into operational performance.
End-to-End Delivery Solution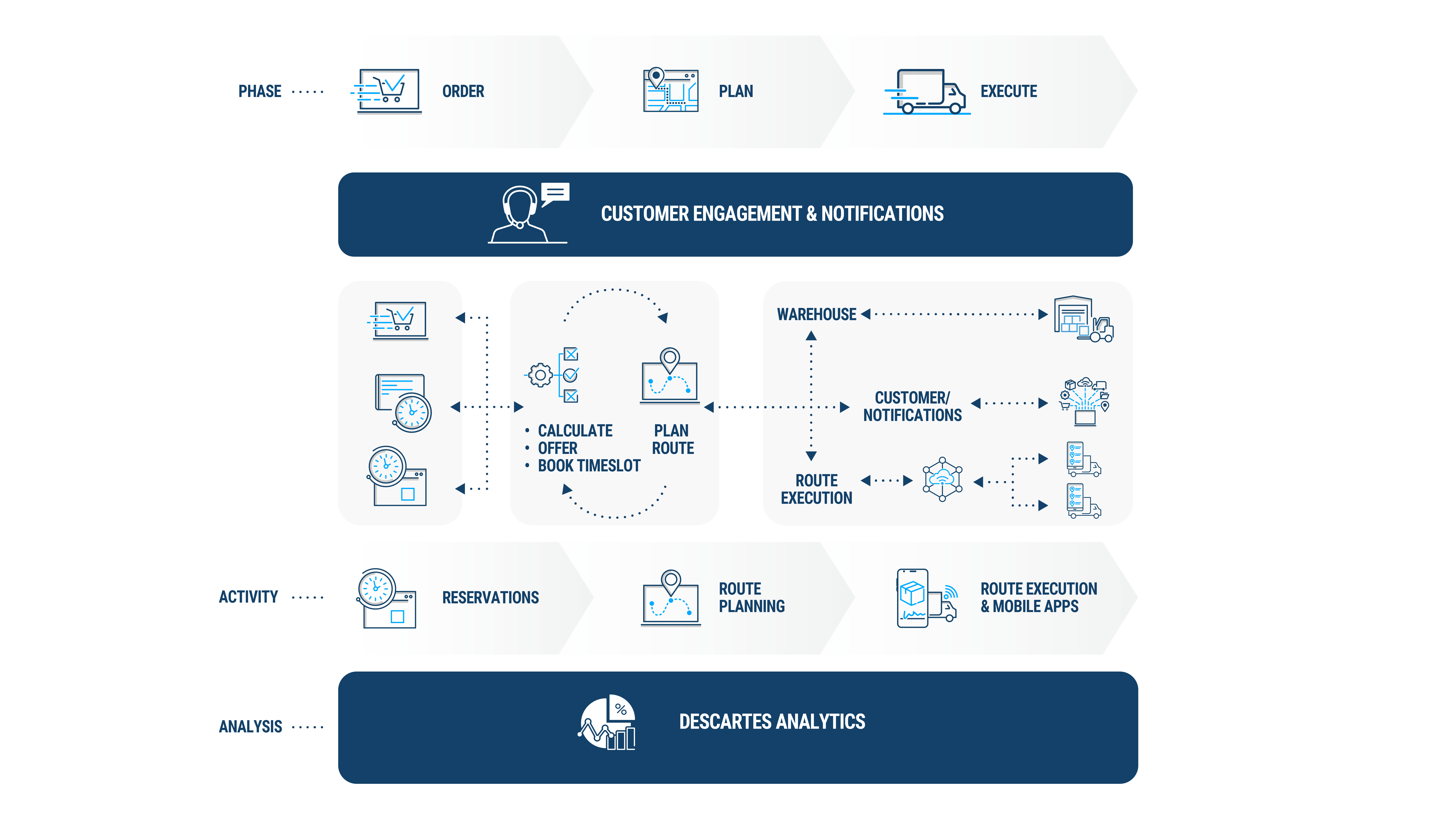 A Single Platform for Distributors' Fleet and For-Hire Transportation Needs
Whether its parcel shipments for parts, using couriers for smaller packages, or common carriers for inbound or intracompany shipments, distributors have transportation management needs that go beyond the fleet.  
Descartes is uniquely positioned to help distributors execute their vision of an enterprise-wide transportation platform that gives them visibility and control of inbound shipments, intracompany shipments, couriers, and parcel shipments. We combine fleet and for-hire transportation to holistically manage all modes of transportation including fleet, truckload and LTL, parcel, courier, and gig economy.
Our solution brings the depth and breadth distributors need to get the most from their transportation operations.
Comprehensive Delivery Footprint
Unified face to customer
Manage mode-specific requirements
Flexible delivery strategies
High-tech to no-tech integration
Combine inbound and outbound operations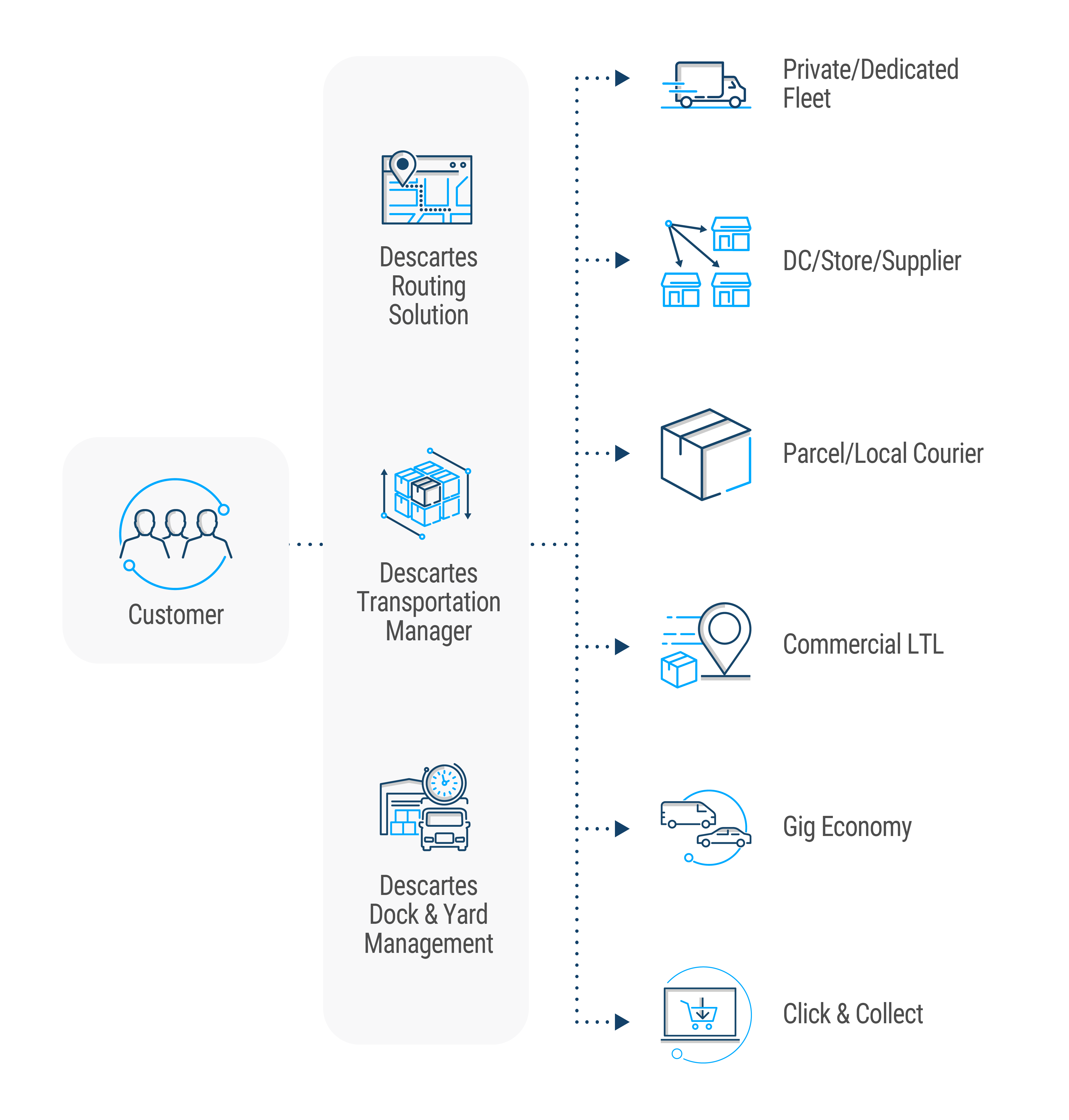 Let Descartes' Experts Help You Understand the Art of the Possible
From our work with leading distributors across the globe, Descartes has built the domain expertise and proven solutions to help distributors with the simplest to most sophisticated transportation requirements. Our experts are fully versed in the leading-edge strategies and tactics in areas such as last-mile delivery that are creating competitive differentiation and increasing profitability.
Fleet Resource Center
Expand Your Routing, Mobile & Telematics Knowledge