Innovatieve rittenoptimalisatie levert ongekende resultaten.
De technologie maakt gebruik van geavanceerde algoritmen en AI om transformatieve verbeteringen te leveren in zowel de strategische als de real-time dynamische dagelijkse planning.
---
Strategische planning
Ontwikkel en optimaliseer verkoop- en distributiegebieden, aanvullende strategieën en zorg voor ritten die zorgen voor een maximale winst en klantenservice.
Dagelijks/Dynamisch
De meest complete set in de industrie met standaard tot zeer geavanceerde mogelijkheden die een breed scala aan industrieën in staat stellen om dagelijkse, dag- en meerdaagse routes te creëren.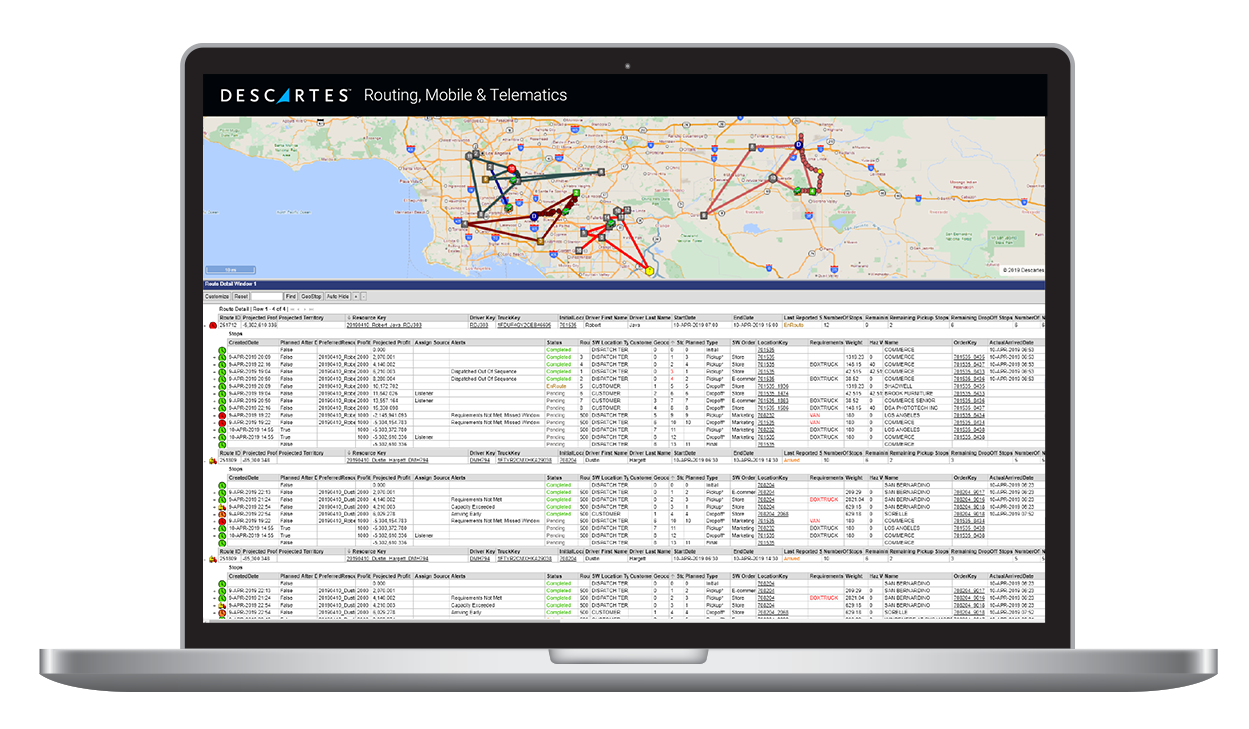 Bereik een gemiddelde kostenbesparing van 5-25% ten opzichte van oude routingsystemen en handmatige processen
Met de toenemende eisen van de klanten, de arbeids- en vlootkosten, de congestie, de regelgeving, de concurrentiedruk en nog veel meer, is het creëren van optimale rittenplanningen en serviceschema's complexer dan ooit. Descartes kan u helpen. Wij stellen uw planners, chauffeurs, dispatchers en operationeel management in staat om dit te doen met de meest geavanceerde tools in de branche die krachtig en toch eenvoudig te gebruiken zijn.
Met bewezen successen bij het plannen van miljoenen ritten per jaar, profiteren onze klanten van:
Verhoogde rittendichtheid en gebruik van bedrijfsmiddelen
Betrouwbare prestaties die zorgen voor een onderscheid in de dienstverlening
Minder tijd en middelen nodig voor de planning
Het aanpakken van het breedste spectrum van planningsomgevingen
Aanpassingen en schaalvergroting met zeer configureerbare technologie
Volledig geïntegreerde dispatching-, mobiele en telematicamogelijkheden
Grotere efficiëntie met AI-gestuurde automatisering

Mark Parsons, Managing Director at BC Sands
---
"The Descartes solution is a unique and comprehensive platform. We could not find another last mile delivery solution that provides scheduling, delivery route planning and execution, proof-of-delivery, automated pre- and post-delivery notification services, and imaging functionality. It has fundamentally transformed our delivery operations."
Wilt u zien hoe uw proces geoptimaliseerd kan worden?
---
Bronnen
---
Routing Infographic
Driving Fleet Peak Performance with Continuous Optimization
Descartes Route Planner™
Enhance fleet utilization & performance with comprehensive route planning and optimization
Liever direct een afspraak maken?