U.S. automakers are reportedly actively rethinking their supply chain resiliency options after global shortages of automotive semiconductors and chips forced them to shut down assembly lines.
The review is aimed at resolving the current situation and prevent further disruptions over the long term. It comes as the Biden Administration launched a study of its own to determine ways to strengthen key U.S. supply chains, including that of semiconductors, and ensure the vitality of American manufacturing industries, in general. Apart from reviving reshoring ideas, the automakers will likely be looking at alternative sourcing strategies where they identify new suppliers as additions or contingency replacements as a means to be able to adapt more efficiently to significant, future regulatory and geo-political changes.
Impact of COVID-19 and Semiconductor Shortages on U.S. Auto Trade
Descartes Datamyne research reveals the impact of COVID-19 and, potentially, the more recent semiconductor shortages on U.S. trade in cars and parts for motor vehicles. The monthly data for the 12 months to January 2021 shows the sharp drop at the onset of the pandemic, followed by the V-shaped recovery, and subsequent declines at the end of 2020 and the beginning of this year.
Overall, exports of cars posted a year-on-year fall of 19.2% and parts were down 22.8%. Imports also posted losses: -17.3% for vehicles, -13.4% for parts.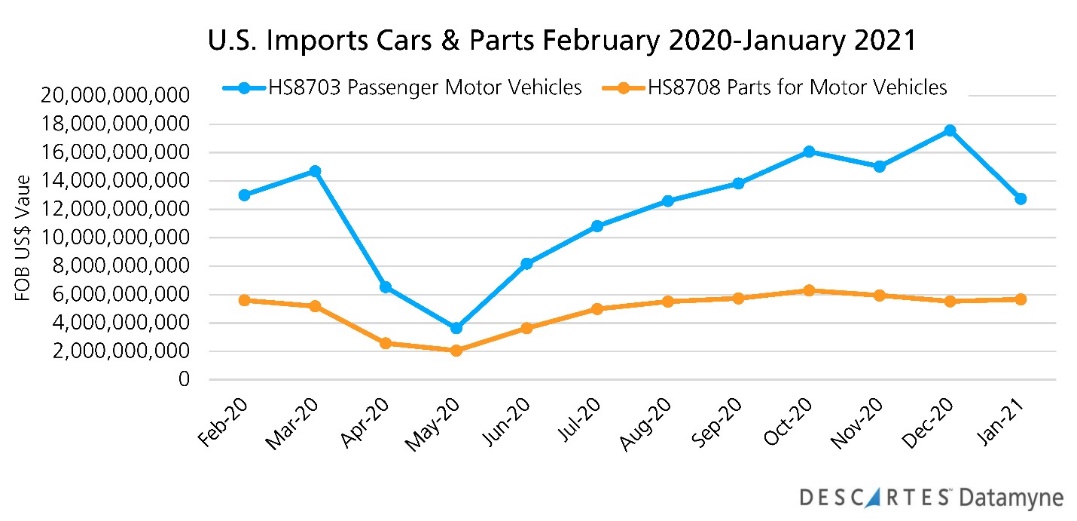 Underlying Causes of Semiconductor Shortages
The trigger event for the shortfall of semiconductors today occurred last year at the onset of CoVid-19 when automakers forecast a decline in demand for new vehicles during the pandemic. In anticipation of that, they slashed orders for auto-grade chips. In turn, the manufacturers of these chips, many located in East Asia, shifted their focus to making chips used in consumer electronics, the demand for which surged as the pandemic forced people to work, learn and entertain from home.
How U.S. Automakers can Strengthen their Supply Chain Resiliency
At the center of their review, U.S. automakers will likely focus on resolving two questions simultaneously: how to resolve the current situation expeditiously and how to adapt efficiently to major geo-political disruptions in the future.
They will be thinking about obtaining inventories across more supplier countries, reducing the risk of over-reliance on one or a handful of nations. But that is only part of the story. There are also business viability calculations, including for reshoring options, as well as background checks that are required in strengthening the resiliency of a supply chain. The comprehensive plan of action to launch an organization's effort in this direction would be as follows:
Identify new suppliers: Make sure that organizations are aware of all the supply options available from around the world. Descartes has solutions that deliver business intelligence that has helped companies uncover suppliers and country sources they were not aware of. These solutions save significant time in identifying new suppliers, as well as markets, customers, and sources of products.
Analyze economic viability: Perform detailed cost-benefits analysis to select the supply chain path that maximizes profit. The integral component will be to efficiently undertake HTS code research and classification for accurate landed cost calculations.
Vet new suppliers: Screen new trading partners against denied parties lists to make sure companies are not entering into business dealings with those considered by governments and world bodies to be 'bad actors' or with organizations where these restricted entities have minor or significant shareholding.
It more important than ever before for companies relying on imports to maintain business growth to include alternative sourcing reviews as an ongoing and priority item in their corporate checklist. By following this strategy, they significantly reduce the risk of supply chain malfunction because they will be prepared to proactively react and adapt when the next disruption strikes.