Recognized for her professionalism, leadership and commitment toward ensuring compliance success for Descartes customers
It's time to announce our latest winner of Descartes' Employee Excellence and Innovation award. This is a quarterly award recognizing one deserving Descartes employee, as nominated by their peers, for their contributions in helping to make Descartes' customers, partners, and fellow employees successful. Eligible Descartes employees must have demonstrated 'Innovation' by sharing valuable ideas to develop new or better processes, tools, methods, systems, products or services in support of Descartes' mission; and 'Excellence' by performing their job with integrity and to the highest professional standards, exceeding expectations while achieving exceptional results for external and/or internal stakeholders.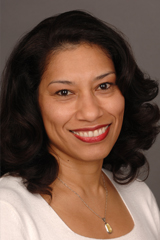 I'm pleased to announce Fany Flores-Pastor, Director, R&D Compliance Systems, as the Descartes Excellence and Innovation award winner for our first quarter of fiscal year 2016. Fany works in Research and Development out of our Miami office and has Fany played a significant leadership role for several compliance initiatives in the Americas. She is recognized by the U.S. Customs and Border Protection (CBP) agency as a key contributor towards new initiatives with trade groups.
Cindy Yamamoto, Senior Vice President, Global Logistics Product Strategy at Descartes, nominated Fany for her professionalism and commitment toward ensuring compliance success for Descartes customers. "For the Trade Community, the transition to ACE is critical to their business processes and in ensuring compliance. The fact that customers, trade groups and CBP seek out Fany's participation and feedback amongst the thousands of companies involved in compliance is proof of her domain expertise and commitment to excellence," Cindy Yamamoto said. "Fany is able to clearly communicate the regulations and can cite specific cases to help customers understand the impact on their business as well as compliance risk. She spends hours on calls with the various Customs authorities to obtain information and troubleshoot problems when implementing new initiatives. In order to define development plans, Fany spends significant effort on researching the rules, specifications, certification process and key contacts to assist Descartes with implementing compliant services."
We asked Fany how it felt to be nominated and selected by her peers for the Descartes Employee Excellence and Innovation Award and her thoughts on being a member of Descartes' O.N.E. L.E.A.R.Ning T.E.A.M.; here's her response:
I was happily surprised when I learned the news. It is always nice to be recognized for your efforts and accomplishments by your superiors and people you work with on a daily basis, but it is especially nice when the recognition comes from others too. I feel blessed to have the job I have, to be able to work with such special group of people -within my teams and all around Descartes.
These last few years have been very exciting for me. In 2009, and after being CBP's Trade Support Network member for a few years, I was selected to be a Trade Ambassador and soon after, as a software developer, part of the Technical Advisory Group. I have had the opportunity to proudly represent our company in trade meetings and events, as well as in working groups related to ACE (Automated Commercial Environment) CBP's new Single Window system for import and exports.
There are so many new things coming our way from ACE, including new and better opportunities for our clients. One of them is eBond allowing the electronic submission and approval of single entry bonds. This process, which used to take days, can now be done in seconds. We have now the opportunity to connect with our clients' surety companies.
On behalf of the Descartes' O.N.E. L.E.A.R.Ning T.E.A.M, I extend our congratulations to Fany for her award win and thank her for her continued support of Descartes.