Recognized for high level of professionalism and improvements to internal delivery processes resulting in better customer communications
Every quarter, Descartes' Employee Excellence and Innovation award is presented to a deserving Descartes employee. Based on peer nominations, the award recognizes Descartes employees for their contributions in helping to make Descartes' customers, partners, and fellow employees successful. Eligible Descartes employees must have demonstrated 'Excellence' by performing their job with integrity and to the highest professional standards, exceeding expectations while achieving exceptional results for external and/or internal stakeholders, and 'Innovation' by sharing valuable ideas to develop new or better processes, tools, methods, systems, products or services in support of Descartes' mission.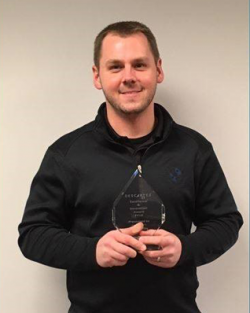 I'm pleased to announce that Descartes' Excellence and Innovation award winner for the second quarter of fiscal year 2018 is Ian Wills, Account Executive from Westborough, Massachusetts. Ian joined us as part of the Oz Development acquisition and has worked tirelessly to improve the handoff process from the sales team to the services team, for the benefit of customers, while also building strong and positive relationships with our partners.
Troy Graham, VP, Business Development at Descartes, nominated Ian for his dedication to Descartes customers, saying, "Ian's work ethic is an example to everyone within the company of how to go the extra mile to contribute to growing the business. While it could be said that is part of the job, Ian goes above and beyond in his level of effort and advocacy for his customers. I think he demonstrates the level of dedication that we want all employees to have. Ian consistently puts the company first. He is continuously an advocate for customers and partners."
We asked Ian how it felt to be nominated and selected for the Descartes Employee Excellence and Innovation Award and for his thoughts on being a member of Descartes' O.N.E. L.E.A.R.Ning T.E.A.M.; here's his response:
It has been great to work with various Descartes teams, learning from the project team what would make the transition from sales better, then working on implementing and putting into place documentation to help achieve the goals of a smoother transition. I've also found it rewarding that Descartes allows us to challenge ourselves by participating in process changes, getting involved in implementing them, as well as supporting overall team collaboration. No team places blame on another, everyone steps up to look at the big picture and assists in identifying any challenges that are presented, and the team works together to overcome any issues. I've found this to be encouraging and I am honored to be part of a team that genuinely cares about doing the right thing. This has motivated me to take on new projects, such as updating the documentation to continue to drive process improvement in the handoff from sales to professional services, as everyone values the feedback and focuses on what will enhance the customer experience.
On behalf of the Descartes' O.N.E. L.E.A.R.Ning T.E.A.M, I extend our congratulations to Ian Wills on his award win and thank him for his continued support of Descartes.