Descartes' Excellence & Innovation Award, a peer-driven program, is presented to one deserving employee each quarter, in recognition for their contributions in helping to make Descartes' customers, partners, and fellow employees successful. Eligible Descartes employees must have demonstrated 'Innovation' by sharing valuable ideas to develop new or better processes, tools, methods, systems, products or services in support of Descartes' mission; and 'Excellence' by performing their job with integrity and to the highest professional standards, exceeding expectations while achieving exceptional results for external and/or internal stakeholders.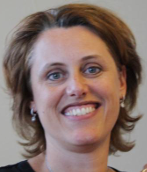 We are pleased to announce our fourth quarter award winner for fiscal year 2015, Marjon van Dijen, Field Marketing Manager based out of Amersfoort, Netherlands.
Marjon's peers nominated her for her clear focus on results, indicating that she is a high-achiever and consistently exceeds expectations.
Descartes' Senior Field Marketing Manager, Sarah Blessenaar, noted in her nomination that Marjon works hard in order to reach set targets and is always willing to help out when colleagues have questions or need a helping hand. "Marjon is not only good at Marketing, she also has a lot of business and industry knowledge that helps a great deal in developing campaigns, organizing events, and supporting She the sales team."
Lucas Avink, Central Europe Sales Director for Descartes, noted that Marjon was responsible for creating customer outreach programs geared at improving customer intimacy, reducing cancellations, and securing existing managed services revenues. "Marjon excels at facilitating, motivating, and pushing the sales team to embrace the entire Descartes product portfolio and truly contributes to helping our customers optimize their Supply Chains, said Lucas."
Danielle Cohrs, Online Marketing Manager for Descartes said, "As long as I have worked with Marjon she displays team effort, initiative, leadership qualities and produces deliverables of high quality. Descartes is the thought leader in our market, and Marjon is an excellent spokesperson to present our ideas, beliefs, and the products and services that support our mission to the market."
We asked Marjon to share her reaction to winning this award and her thoughts on being a member of Descartes' O.N.E. L.E.A.R.Ning T.E.A.M.:
"Being nominated and receiving the award came as a complete surprise. The idea behind this award, that my colleagues sent a recommendation, makes it very special and valuable. What I like most about my job is that practically no day is the same. As a marketer at Descartes you are a kind of 'linking pin' in projects like events, tradeshows and campaigns. You have to get other people involved and make them enthusiastic about your plans. This means getting the cooperation of Sales, Product Management and Professional Services at Descartes, but also contacts with suppliers and partners. I love doing things a bit differently than they used to be done and I like to try a different approach or a new tactic in campaigns. The last thing I would like to mention is that it is not just me working on those projects. Only with the backup of my dedicated marketing colleagues was I able to make a success of these. We try not to think about separate tasks, but work on a holistic approach to aim for the best result."
At Descartes, our primary goal is to foster success for our customers, partners, and fellow employees. Marjon's dedication to excellence and innovation is a prime example of successfully delivering on this mission every day.
On behalf of the Descartes' O.N.E. L.E.A.R.Ning T.E.A.M, I extend our congratulations to Marjon for her award win and thank her for her continued support of Descartes.