Recognized for her leadership and support of the implementation of Denied Party Screening in the UK
Descartes' Employee Excellence and Innovation award, recognizing Descartes employees for their contributions in helping to make Descartes' customers, partners, and fellow employees successful, is presented quarterly to a deserving Descartes employee based on peer nominations. Eligible Descartes employees must have demonstrated 'Innovation' by sharing valuable ideas to develop new or better processes, tools, methods, systems, products or services in support of Descartes' mission; and 'Excellence' by performing their job with integrity and to the highest professional standards, exceeding expectations while achieving exceptional results for external and/or internal stakeholders.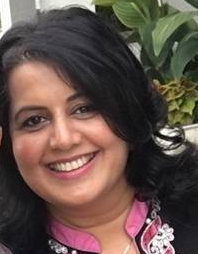 I'm pleased to announce Sophia Nisha, Director of Denied Party Screening, as Descartes' Excellence and Innovation award winner for the first quarter of fiscal year 2017. Sophia is a denied parties screening domain expert with strong leadership qualities and is a great team player. She was instrumental in helping us set up and test the new local environment for denied party screening in the United Kingdom while developing and directing internal training programs to extend this new arm of the business.
Joe Mallozzi, VP, Transportation Management at Descartes, nominated Sophia for leading the Descartes team responsible for the implementation of a Denied Party Screening service for the UK. "Sophia provided leadership for the execution of the clearing house service which requires a very detailed review by multiple people touching the same files and records - step by step handoffs - and the team worked through and completed this requirement with flawless coordinated precision," Joe Mallozzi said. The bulk screening service is now available to more customers while providing additional capacity for screening.
We asked Sophia how it felt to be nominated and selected by her peers for the Descartes' Employee Excellence and Innovation Award and her thoughts on being a member of Descartes' O.N.E. L.E.A.R.Ning T.E.A.M.; here's her response:
The opportunity to work together came within months of Descartes acquiring MK Data. Prior to this, we would not have been able to fulfill this client's needs because it had to be done only in Europe. This was a challenge that I was excited to take head on. I could not think of a better way to share with the rest of Descartes exactly what Denied Party Screening is, and to show our team's strengths. The challenge was to make sure everyone was set up with the required programs, come up with completely new processes, train a team who had never heard of denied party screening and write a SOP in a very limited time. This project helped me build stronger relationships with my co-workers, find resources that could assist us in future projects and has got me very excited about being part of Descartes.
On behalf of the Descartes' O.N.E. L.E.A.R.Ning T.E.A.M, I extend our congratulations to Sophia Nisha on her award win and thank her for her continued support of Descartes.