Recognized for her tireless commitment to improving internal efficiency while consistently and professionally supporting the success of other Descartes employees
Presented to one deserving employee each quarter, Descartes' Excellence & Innovation Award is a peer-driven program which recognizes an individual for their contributions in helping to make our customers, partners, and fellow employees successful. Eligible Descartes employees must also have demonstrated 'Innovation' by sharing valuable ideas to develop new or better processes, tools, methods, systems, products or services in support of Descartes' mission; and 'Excellence' by performing their job with integrity and to the highest professional standards, exceeding expectations while achieving exceptional results for external and/or internal stakeholders.
We are pleased to announce our third quarter award winner for fiscal year 2014, Stephanie Peach, Contract Administration Manager based in Waterloo.
Stephanie's peers nominated her for her approachability and consistent willingness to listen to their needs and respond accordingly. She is described as professional, organized, and always looking for ways to expedite processes more efficiently.
Anna Ieraci, who works under Stephanie in the Contract department, describes her contributions. "Stephanie is always striving to improve the efficiency of her department. She seeks to streamline the processes which take up so much of her team's time, and automate any manual tasks for the betterment of the team."
Tiany Fernandez, who reports to Stephanie, nominated her for the crucial role she plays in the department. "The contract admin team would be lost without her. She is the backbone of our department and everything that she has done for our team is done and is appreciated by each and every one of us. Her impact on our team and at Descartes is very big as she works tirelessly to help improve the work we do, as well as help our sales team and other internal Descartes employees seek answers to our many questions. She represents all that Descartes stands for and I am very proud to call her my manager."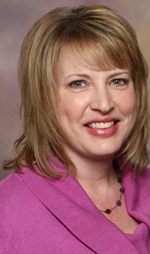 We reached out to Stephanie to include her reaction to her win in this post. Of her nomination by several of her teammates, Stephanie said, "We have an amazing team of bright individuals who approach their roles with entrepreneurial spirit and are determined to surpass their goals on a daily basis. I am so proud of them and taking time out of their busy schedules to complete the nomination forms means the world to me." Stephanie also described the innovative spirit at Descartes and the challenges associated with our continued growth: "We are building something here at Descartes piece by piece and I am upfront with new hires telling them it is not perfect and we are working on improving processes. There are daily challenges to meet but we have the opportunity to learn, grow and be a part of what Descartes becomes. If you're interested in career that is never dull – you've come to the right place! This is why I've been at Descartes almost 13 years this spring and I am still enjoying working with the various teams and people all over the world. I believe that we can really be something great if we work hard enough to achieve it. Isn't the purpose of life to contribute and make some things better? I look forward to the future and our collective contributions!"
At Descartes, our primary goal is to foster success for our customers, partners, and fellow employees. Stephanie's dedication to Excellence and Innovation is a prime example of successfully delivering on this mission every day.
On behalf of the Descartes' O.N.E. L.E.A.R.Ning T.E.A.M, I extend our congratulations and thanks to Stephanie Peach for her award win.