Descartes is committed to providing the best support possible to our worldwide customer base, and is constantly seeking to improve the support experience for customers.Technology is an important part of the support process and, driven by our ongoing goal to provide the best service possible, we chose to implement FreshService, a new Incident Management System from Freshworks.
The implementation involved rolling out a cloud-based service desk for Descartes, which supports more than 17,000 customers worldwide with a team of agents spread around the globe. Since going live, we have received positive responses from both customers and agents. With increased self-service, automation and the best-rated mobile service desk app, the new solution has the functionality and versatility needed to simplify support—and to help us serve customers faster and more efficiently.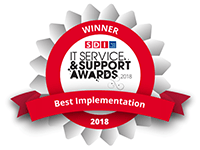 Given this positive feedback, Freshworks and Descartes decided to enter the Service Desk Institute (SDI) IT Service & Support Awards process – and we won for Best Implementation of an IT Service Management (ITSM) Solution! The award was announced at the SDI Awards dinner, which took place in March 2018 in London, UK.
Descartes customers, we'd like to extend a sincere thank you for being part of the process. If you haven't yet had the opportunity to take a look at the new customer service portal, please do. We think you will find a drastically improved experience and ease of use. Again, thank you for your support and let us how we can continue to make our support experience the best possible!