Tuesday through Thursday, November 13 - 15, Descartes customers and partners from around the globe attended our busiest and most productive user conference yet. Held at the W Hotel in Fort Lauderdale, our Evolution 2012 Global User and Partner Conference provided an opportunity for attendees to learn about the latest technological innovations available in the industry, collaborate with other users, and network with partners, sponsors, and Descartes domain experts from around the world.
An emphasis of this year's conference was placed on community, and we saw this during the Welcome Reception and Excellence & Innovation Awards ceremony sponsored by ExtenData, held the first evening of the conference. The attendees gathered together as a community to applaud their colleagues who were being honored for achieving great results in successfully launching transformational initiatives for their businesses and/or use Descartes' solutions in innovative ways that delivered high return on investment and rapid time-to-value. This year's winners included:
Ferguson Enterprises
John Lewis Partnership
John S. James Co.
WS Badcock
Vandergrift
Carson International
MK Alliance
Justin Marshall
Joe Foley
Tomasz Jasniewicz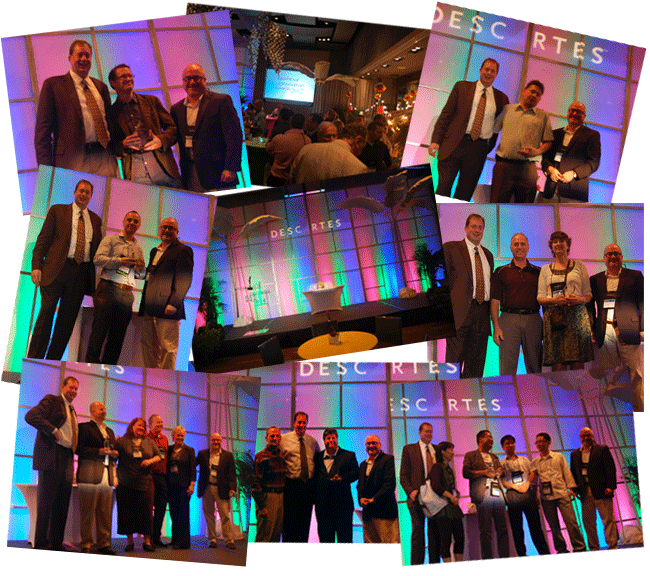 Community was again a focus during the General Session on Wednesday, when Descartes CEO, Arthur Mesher, shared the message that Descartes' success is only possible if we can help our customers and partners be successful. Frank Miller, Director of Logistics at W.S. Badcock, presented a case study where attendees could see first-hand how his company became more successful at narrowing the window for scheduling home deliveries by implementing a Descartes routing solution. The general sessions concluded with a presentation by Kevin Gavin, Vice President, Supply Chain Management Solutions and me, unveiling a cloud-based application for the entire Global Logistics Network called the Descartes Community. The day continued with breakout sessions for the following tracks: Routing, Mobile & Telematics, Transportation Management, Customs and Regulatory Compliance, Global Logistics Network (GLN) Services, Broker and Forwarder Enterprise Systems, and Transportation and Logistics Service Provider track sponsored by SAP. The day concluded with the Technology Fair and Networking Reception sponsored by MobileFrame.
Day three began with general sessions sponsored by SAP, showcasing keynote addresses by Vinnie Mirchandani, technology industry blogger and author of "Technology Excellence Redefined," and motivational speaker on leadership and former NFL quarterback, Tom Flick. Breakout sessions continued, followed by lunch sponsored by QuestSolution and the conclusion of the conference.
Read Vinnie Mirchandani's perspective of the event by visiting his blog:
http://florence20.typepad.com/renaissance/2012/11/descartes-innovation-awards.html
http://florence20.typepad.com/renaissance/2012/11/nice-touches-at-descartes-evolution.html
http://florence20.typepad.com/renaissance/2012/11/who-are-you.html http://florence20.typepad.com/renaissance/2012/11/my-heroes-have-always-been-operational-folks.html
Additional photos of Descartes Evolution 2012 Global User and Partner Conference will be posted soon, so check back for updates!