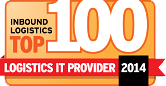 Every April, Inbound Logistics editors recognize 100 logistics IT companies that support and enable logistics excellence. Drawn from a pool of more than 300 companies, using questionnaires, personal interviews, and other research, Inbound Logistics selects the Top 100 Logistics IT Providers who are leading the way in 2014. Editors seek to match readers' fast-changing needs to the capabilities of those companies selected.
According to Felecia Stratton, Editor at Inbound Logistics, when choosing the 2014 Top 100 Logistics IT Providers, Inbound Logistics editors looked at excellence in optimizing internal transport and logistics operations. At a higher, more strategic level, selections were based on how transformative solutions impact outward-facing business activities driving integration across internal, as well as external, business processes. Descartes Systems Group was selected because its solutions solve specific logistics challenges and improve processes, and create a ripple effect of efficiencies across the entire value chain.
Descartes is pleased to be honored for our innovative solutions that have empowered logistics and supply chain excellence.