Agreement to Enhance Transportation Management Connectivity, Collaboration and Regulatory Compliance
We were pleased to announce that Descartes signed a software development cooperation agreement with SAP SE (NYSE:SAP), to provide customers with an end-to-end business-content network for logistics collaboration and connectivity. The partnership creates a logistics message exchange between Descartes' cloud-based Global Logistics Network (GLN) and the SAP® Transportation Management (SAP TM) application.
Enhancing TMS Implementation with Comprehensive B2B Messaging for Logistics Services Providers and Shippers
Since global transportation management is a multi-party process involving logistics services providers, carriers and governmental agencies, effective connectivity and collaboration are critical. Descartes' partnership with SAP is designed to provide customers with comprehensive shipment visibility and control across the logistics network and help ensure that the supporting customs security and fiscal filings are executed for safer, more seamless and consistent logistics operations.
On the partnership, Franz Hero, Senior Vice President, Supply Chain Management and Logistics at SAP provided the perspective that, "Across today's complex global supply chains, the movement and sharing of data between logistics parties is as important as the physical movement of goods. We're pleased that our partnership with Descartes enhances SAP TM with greater trading-partner connectivity options that deliver more comprehensive, timely and accurate logistics information required for driving operational excellence."
Descartes' GLN is one of the world's most extensive logistics electronic communications networks, connecting a global community of more than 220,000 parties in more than 160 countries. Designed for logistics operations, it takes into account the unique requirements of the different transportation modes and regional messaging standards critical to successful management of the inter-enterprise flow of data and documents that track and control shipments, inventory, assets and people in motion. In addition, Descartes' GLN supports commercial, customs and product information messaging essential to global operations.
Also as part of the agreement, Descartes will provide GLN-based messaging and filing services for cross-border cargo security filings such as ICS and ACE and transit, export and import declarations for forwarders and brokers. These services will leverage the transportation information created by SAP TM and provide filing status updates to SAP TM for improved shipment visibility.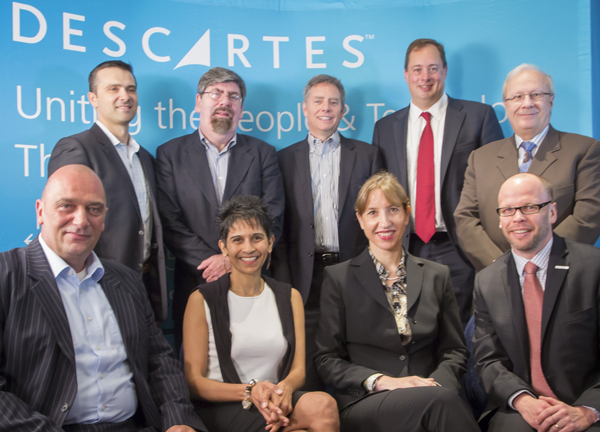 SAP and Descartes Team Members at Evolution 2015 in Miami Florida, May 2015
Front row, from left to right: Johan Van Der Lijcke, SVP Strategic Accounts & Alliances at Descartes; Elinor Castell, Solution Owner Transportation Management at SAP; Bianca Räbartsch, Global Head of T&T Ecosystem at SAP; J. Scott Pagan, President and COO at Descartes. Back row, from left to right: Ken Wood, Executive Vice President, Product Management at Descartes; Daniel Bergintz, Senior Solutions Manager at SAP; Kevin Schock, Director Solution Management at SAP; Edward Ryan, Chief Executive Officer at Descartes; Robert Beauchemin, Executive Vice President, Sales and Alliances at Descartes.