Meeting Argentina Customs Advanced Manifest Filing Requirements for Air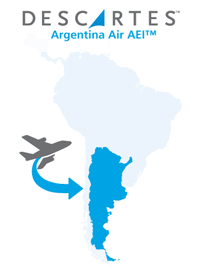 Descartes Argentina Air Advance Electronic Information™ (Descartes Argentina Air AEI™) solution features advanced data validation and seamless transmission of the manifest data to the Argentine Tax and Customs Authority, or Administración Federal de Ingresos Públicos (AFIP), within the specified guidelines. Information entered or captured by the system is automatically mapped into the 4 message sets of the International Air Transport Association (IATA) Cargo-XML standards for airfreight required for compliance with the regulation including:
Airline flight manifest (XFFM) that notifies the AFIP of shipment details with all associated air waybills
Air Waybill / Master Air Waybill (XFWB) that contains the extended details of each air waybill included in the flight manifest
House Air Waybill (XFZB) that details the House Air Waybills contained in each Master Air Waybill
Descartes Argentina Air AEI leverages the Descartes Global Logistics Network™ (Descartes GLN™), which allows the world's leading transportation providers to connect to their trading partners, reliably exchange information, drive-up delivery performance and ensure world-class customer service.
The Descartes GLN helps companies better manage end-to-end logistics processes, track and manage inventory, meet regulatory requirements, optimize fleet performance and effectively collaborate with global partners.