Logistics Service Providers (LSPs) & Cybersecurity Resource Center
Amid Global Supply Chain Disruptions, Sanctions Violation Penalties, and Global Instability, Logistics Service Providers (LSPs) Are Increasingly Focused on Supply Chain Cybersecurity
---
Why Are Logistics Service Providers Targets for Cybercriminals?
Modern supply chains depend on logistics service providers to coordinate and speed the movement of goods worldwide. However, logistics service providers are particularly vulnerable to cyberattacks since LSPs:
---
Interactive eBook
Descartes has developed an eBook, "Cybersecurity: Understanding Your Risk as a Logistics Service Provider" that explores the policies and tactics that LSPs can adopt to be proactive in their approach to logistics cybersecurity. This interactive eBook not only covers the state of the transportation cybersecurity landscape, but also explores how LSPs can use market-leading technology to guard against a potential cyberattack.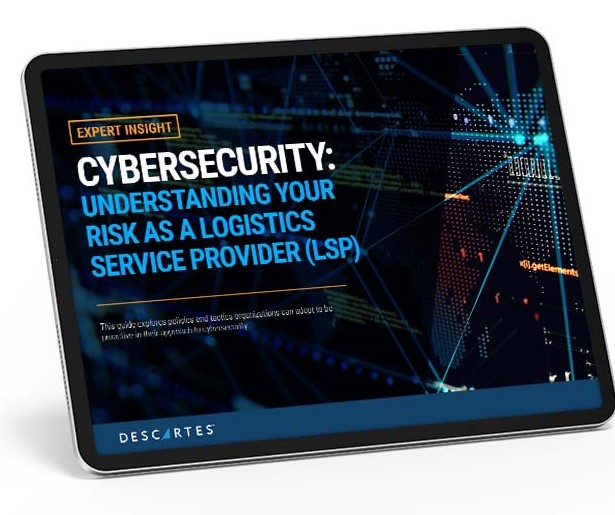 How Descartes Can Help
Descartes is helping to protect our customers through our innovation, deep logistics expertise, and commitment to modern supply chain cybersecurity advancements. Our long-term knowledge of the logistics sector means that we understand the global nature of LSP operations and the importance of Information Security to maintain business continuity. Our users benefit from:
A modern application structure to guard against attacks
Denied Party Screening (DPS) across a database of cyber criminals
Advanced analytics to better pinpoint potential risk
Advanced data transfer protocols such Application Programming Interfaces (APIs) and other advanced standards
A 24/7 network operations center and an in-house security team
---
Connect with Us
Descartes Can Help Reduce Your Risk of a Cyberattack
---