Advanced Freight Forwarding Software for Logistics Service Providers (LSPs)
Descartes offers an on-demand (SaaS) forwarder back office solution that is comprehensive and modular for managing the planning and execution of import and export shipments for all modes of domestic and international transportation. With Descartes, freight forwarders and other logistics intermediaries can realize the benefits of real-time information exchange throughout the entire freight operations process – from purchase order, bookings, security filing and customs entries all the way to warehousing and final delivery – through a single interface.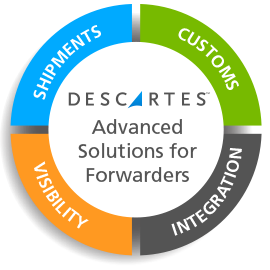 Streamline Documentation Processes for Booking, Shipment Management & Documentation
With Descartes, forwarders can expect to achieve:
Multimodal shipment execution
Production of all required shipment documents
Role-based access to documents
Portal access to documents for agents and customers
Automated data entry and extraction
Standard and customized reporting capabilities
This versatile freight forwarding software for logistics control and performance enables collaboration between procurement, warehouses, vendors, carriers, transportation specialists, governments and other stakeholders. Users can streamline documentation processes for bookings and Shipper Letter of Instruction (SLI), adopt the Electronic Airway Bill (eAWB); integrate accounting processes for more accurate cost matching, rating and profit analysis; and file a variety of global customs declarations and security filing requirements.
This page is also available in: