---
U.S. & Canada - Security Filings
In the News
MNX Global Logistics Uses Descartes for New Mandatory Air Cargo Advance Screening (ACAS) Program
Achieve U.S. and Canada Cargo Security Compliance
---
Helping users stay complaint with the latest filing requirements from the U.S. government
Effectively comply with Canada Border Services Agency (CBSA) security filing requirements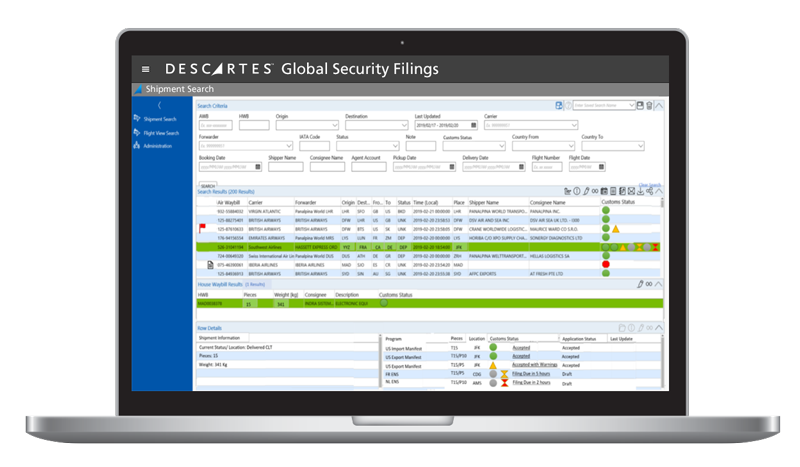 Descartes is a leading provider of North American cargo security compliance solutions. We help improve the efficiency of cross border trade through comprehensive coverage of U.S. and Canadian compliance programs.
Features & Benefits
---
Cloud-based solution that can be set-up quickly and is easy to use
Better gauge compliance performance and meet record keeping requirements
Template-driven Processes
Standardize data capture and workflow to streamline processes, reduce labor and improve accuracy
Communicate security clearance statuses to enhance customer service
Variety of filing solution options from a cloud-based portal through direct system connectivity with customs
Add compliance modules and layer-on complementary services such as Denied Party Screening (DPS)
— Keita Sataka, Senior Vice President, Nippon Cargo Airlines (NCA)
---
"Compliance with regulations, such as ACAS, is essential to ensuring safe and secure operations for our customers and NCA."
Ready to see Descartes U.S. & Canada Security Filing solutions in action?
---
Additional Resources
---
White Paper
Maximize ecommerce potential by automating Section 321 Type 86 entries
Looking to meet with a solution expert?