Global Customs Compliance Solutions to Streamline Regulatory Complexities
Descartes Customs & Regulatory Compliance solutions help to bridge the information gap between trading partners and regulatory authorities to enable efficient cargo security screening, customs declaration filings and compliance across multiple regulatory requirements and industry-sponsored initiatives affecting international transportation. These solutions are based on Descartes' 30+ years of domain expertise, technology innovation and broad reaching logistics community connectivity and empower organizations to streamline the compliance and regulatory complexities of global trade.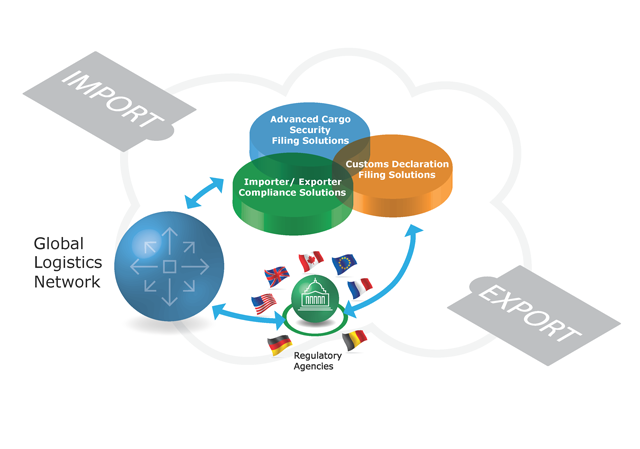 Built on years of experience in working with regulatory authorities, Descartes' platform enables collaboration between multiple parties to address a broad spectrum of filing requirements across transportation modes as new requirements are mandated. Data or documents that are already moving through the Descartes Global Logistics Network™ (Descartes GLN™) can be leveraged and automatically re-purposed for completing customs filings. We can help streamline the use of business rules for merging data from multiple documents or validating content through master reference data.
Descartes Customs & Regulatory Compliance solutions provide you with the industry's widest array of customs and regulatory solutions. Our modular approach also enables businesses to select specific features and functions based on compliance requirements, available in-house resources, technology infrastructure, budgets and relationships with trading partners. Combined with the Descartes GLN, these solutions help you:
Gather data from multiple parties and integrate it for filings;
Move goods across borders without disruption;
Reduce the risks of penalties or fines;
Meet a wide range of safety, security and commercial compliance mandates; and
Store data for all filings and compliance agency responses to enable complete audit and reporting capabilities
Descartes Customs & Regulatory solution capabilities include: