Providing Importers, Customs Brokers, Forwarders and Carriers with a Cargo Security Filing Solution Toolset
As a leading provider in regulatory compliance, Descartes offers a wide range of solutions to help you succeed in today's ever-changing regulatory environment. Descartes' cargo security filing software enables collaboration between multiple parties to address a variety of global requirements with added visibility and control of shipment and compliance processes.
Cargo security initiatives are in place to gather information from the trade community to improve security. With this information, government systems can better screen cargo and analyze parties for what they perceive to be at risk. However, the disparity between global mandates and varying infrastructure capabilities of supply chain stakeholders can make the exchange of timely and accurate information challenging.
Descartes' security filing software provides importers, customs brokers, forwarders and carriers with a solution toolset that includes:
Advanced manifest filing solutions and system integration to help address security mandates around the world
Dash-boarding and reporting to monitor, audit and report on security initiatives
Screening tools for high-risk products and parties such as Denied Party Screening (DPS), restricted party screening and others
Electronic document management and automated routing to customs authorities and brokers
Validation and routing engines which allow for automated Enterprise Resource Planning (ERP)-initiated messaging
Descartes Security Regulations Supported
Descartes Supported Regulations for Global Security Filings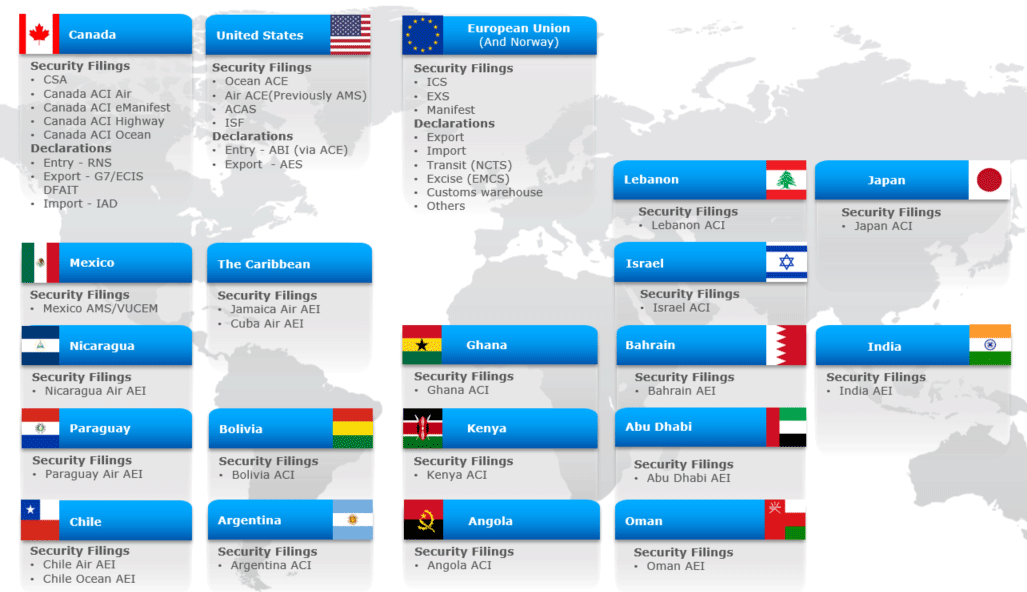 This page is also available in: