Route Planning & Mobile Solutions
---
Holen Sie das Maximum aus Ihrer Fahrzeugflotte
---
Verbessern Sie Flottenproduktivität und Kundenzufriedenheit mit fortschrittlichen und integrierten Lösungen für Planung, Disposition und Auslieferung.
Verbesserung der Service-Levels bei gleichzeitiger Senkung der Kraftstoff- und Personalkosten
---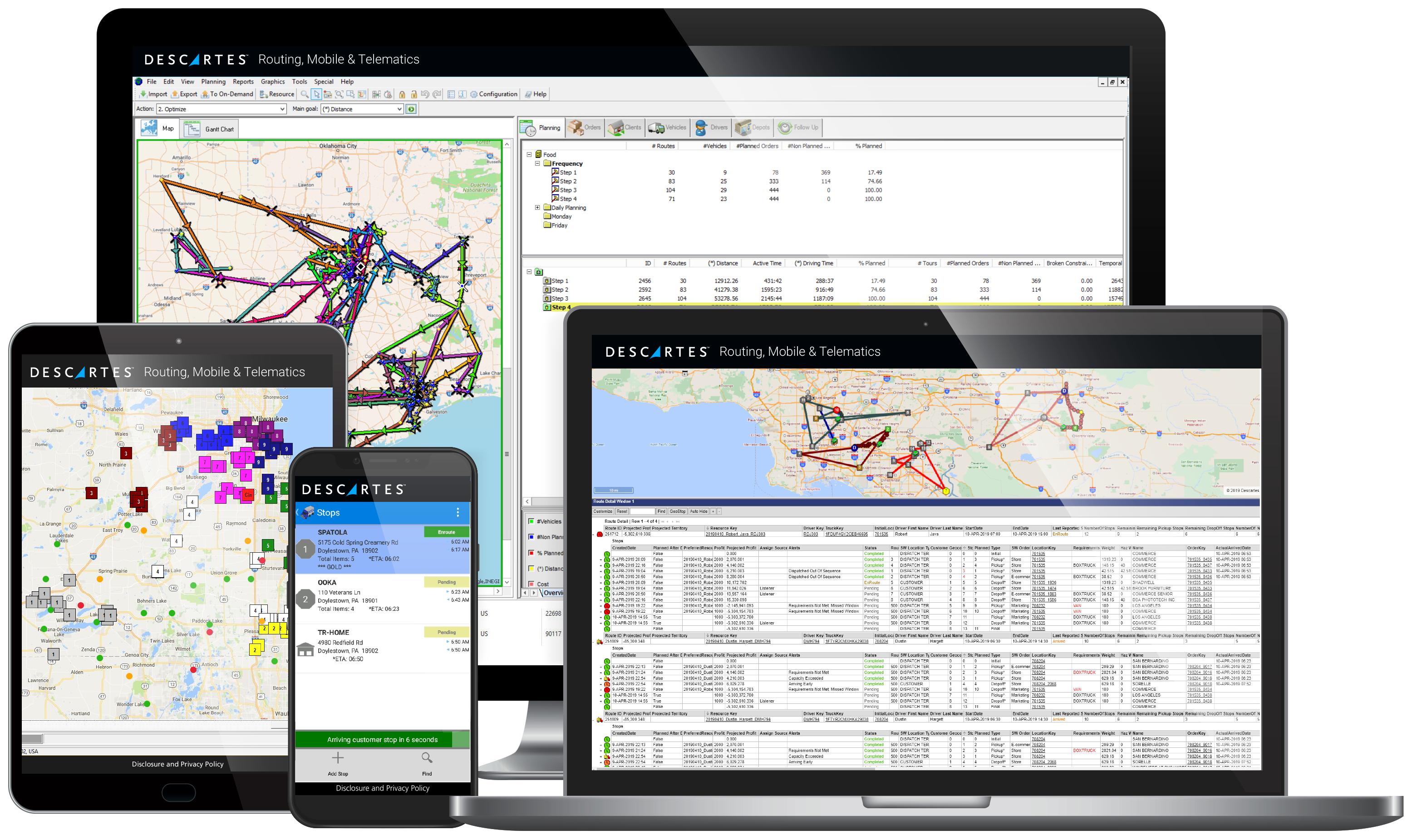 Descartes bietet das branchenweit umfassendste Angebot integrierter Lösungen zur Tourenplanung, -durchführung und Performance Tracking
Nachgewiesene Erfolge
---
>15%
Erhöhung der
Kraftstoffeffizienz
>10%
Erhöhung der
Asset-Auslastung
"Die Partnerschaft mit Descartes ist ein entscheidender Teil der Optimierung unserer Lieferprozesse auf der letzten Meile: Wir steigern unsere Effizienz und senken dadurch Transportkosten."
- Hemant Porwal, Vice President Global Supply Chain and Operations bei WESCO International
"Funktionen wie mobile Zustellnachweise und Fotos haben es uns ermöglicht, effizienter zu arbeiten, Abweichungen vom Auftrag zu minimieren und die Kundenzufriedenheit zu erhöhen."
- Andrew Mercier, President and CEO bei Merchants Foodservice
Sie möchten unsere Lösung in Aktion sehen?
---
Tyres On The Drive Bietet Kundenservice mit Dynamischer Selbst-Terminbuchung
Erfahren Sie, wie die Lösung von Descartes zur Termin- und Routenplanung bei Tires on the Drive die Kundenzufriedenheit verbessert, die Routendichte erhöht und die Dispositionsressourcen reduziert hat.
Weitere Ressourcen
---
Best Practices für Flotten
Erfahren Sie, wie Sie Kosten und Compliance mit zentraler Kontrolle verwalten können
Kunden News
MedSpeed wählt Descartes' Routenplanungslösungen zur Verwaltung des landesweiten Logistiknetzes im Gesundheitswesen
Erfolgsgeschichte
Ideal Supply bietet einen Echtzeit-Transparenz über den Bestell- und Lieferstatus und ermöglicht so eine proaktive Problemlösung um die Kundenerwartungen zu erfüllen.
Sie möchten mit unseren Experten sprechen?