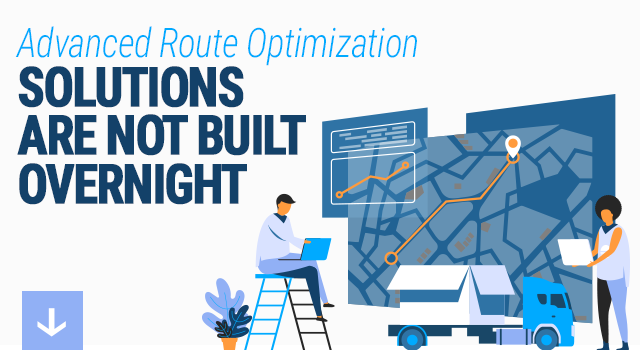 Selecting a route optimization solution can be daunting. Weighing customer requirements, return on investment, company standards, change management, IT resources, and planning time all play into the decision-making process. The industry experience, longevity and innovation brought to the table by companies providing these solutions should also be considered.
Route optimization engines are based on highly sophisticated math algorithms that take time and experience to develop for specific use cases. Not all route optimization engines are the same or solve the same problems. These are all factors to consider.
There are several new and existing routing solutions in the marketplace. All claim to provide route optimization, but do they solve your routing challenges? How can you be sure that a given solution will handle your use cases and provide attainable savings? Does the solution require change management, fit with your data model and offer easy adoption for your users?
When evaluating capabilities of competing technologies, consider route optimization that uses the following concepts designed to drive density, increase productivity, and reduce miles and the number of routes:
Sequencing: Orders stops to consider customer requirements and reduce miles.
Swapping: Moves stops between routes or days considering customer, vehicle and driver requirements.
Pick-up and Drop-off: When one order is associated with two locations (i.e., picking up a product from one location and delivering it to another), arranges the pick-ups and drop-offs in a way that considers vehicle capacity, customer requirements and driver efficiency.
Best Day Selection: Selects the best day, route and sequence to create route density, considering customer, vehicle and driver requirements.
Same Day Dispatch: Assigns new or emergency orders to routes being executed in the field, considering what has been completed on the route. This concept leverages Sequencing and Swapping to meet customer requirements and reduce miles.
Point of Sales Routing: Determines the best time and day considering logistics capacity as well as customer, vehicle and driver requirements.
Continuous Optimization: Allows the optimization engine to run from receiving the first order to the last, which drives maximum efficiency and enables you to extend cut-off time. Continuous optimization can use all the concepts and provide all the benefits listed above.
An optimal solution will leverage your customers' business priorities and one or more of the concepts above to solve the simplest to the most complex routing problems, while driving efficiency that reduces cost, improves productivity and enhances the customer experience.
In numerous competitive situations, Descartes' route planning tools and innovative route optimization capabilities have consistently generated higher degrees of efficiency and cost savings versus other solutions in the market. Recently, we went head-to-head with a well-funded start-up. While their slides were great and the solution looked easy to use, when the prospective customer drilled into tangible results, they found Descartes' optimization resulted in 20% greater savings from reduced miles.
It takes industry knowledge, innovation, understanding of a customer's challenges and great technology to deliver results like this. On average, Descartes' routing solutions can provide customers with the following results:
10-12 % fewer miles driven
8-10% reduction in routes
80-100% On-time Performance
Quantifiable savings (based on customer results)

Miles reduction: $15/driver/day (10% savings)
Labor reduction: $5/driver/day (15 min/day)
Shorts/credits reduction: $15/driver/day ($1.00/stop)
Unnecessary idle time reduction: $4/vehicle/day (1-hour savings)
MPG improvement: $5/vehicle/day (.5mpg)
Paperwork reduction: $5/vehicle/day ($.50/stop)
= Approximate Savings: $15,000/vehicle/year
With this type of results, our customers have reduced planning time, lowered costs, improved vehicle utilization, increased driver productivity, and enhanced the customer experience.
Descartes has been providing route optimizations tools since 1985. We have been innovating and refining our routing capabilities to address a myriad of routing problems in diverse industries. Leveraging our experience and attention to innovation, we provide solutions that address territory and strategic planning, dynamic planning, same-day routing, point-of-sale/appointment scheduling and more.
We welcome the opportunity to understand your business and routing challenges, and to help drive efficiencies in your organization.