---
Operational Route Planning
Video: Fairmount Tire & Rubber
This wholesale tire distributor is moving more tires in less time and with fewer trucks thanks to Descartes.
FAQ: What is Hybrid Route Planning and What Are its Benefits? 
Hybrid route planning combines the best characteristics of static and dynamic route planning.
Operational Route Planning Takes Customer Orders and Creates Optimized Routes and Delivery Sequences that Reduce Delivery Costs and Improve Customer Service and Fleet Productivity
---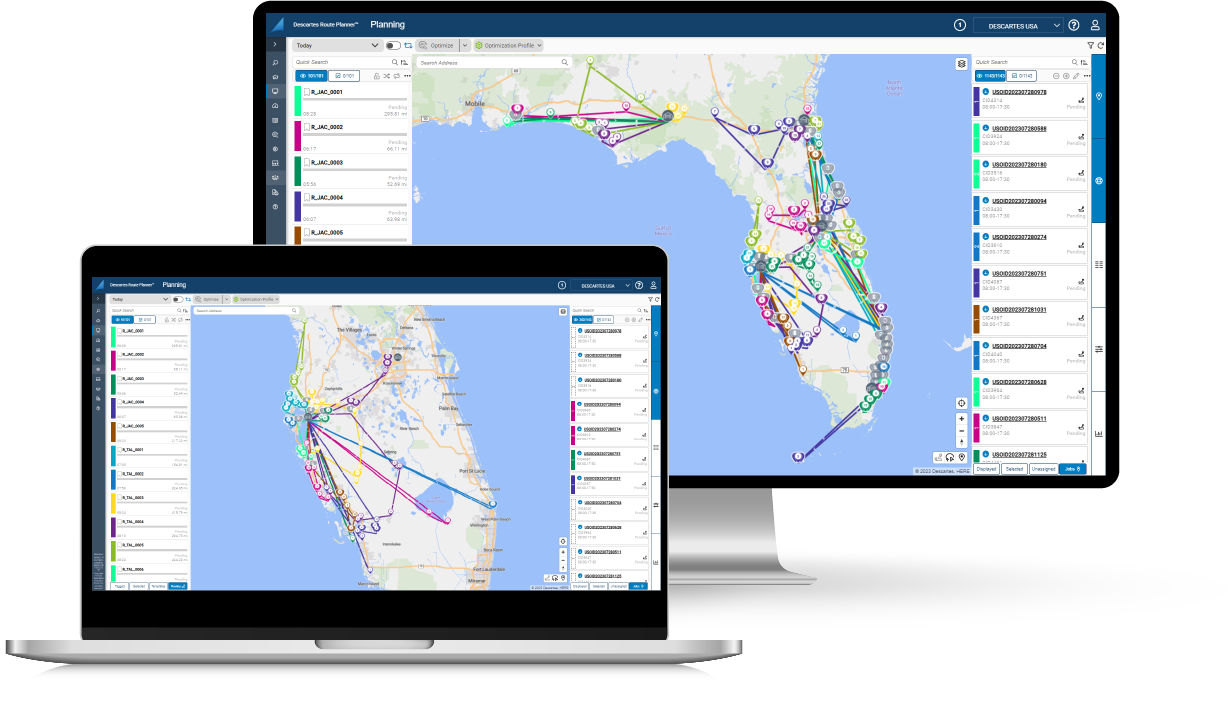 With operational route planning, also known as daily planning, orders for delivery today, tomorrow or across multiple days are optimized to minimize distance, drive time, and number of resources while adhering to time windows and operational policies. 
There are multiple route planning techniques that provide the best value depending upon industry such as fixed route planning, dynamic route planning, and hybrid route planning.
Descartes combines advanced optimization techniques such as continuous optimization with machine learning to create operational plans that dramatically improve fleet productivity and customer service and enable delivery processes that enhance competitiveness. 

- Wayne Armstrong, Head of Digital Channels at PlaceMakers 
---
"Although the Descartes deployment is just 60% complete, we've already seen a 40-50% increase in delivery satisfaction and achieved significant financial savings. We've also reduced inbound calls by 16%, increased load utilization by 13%, and reduced loading times by 14%."  
Fleet Resource Center
Expand Your Routing, Mobile & Telematics Knowledge
Additional Resources
---
Customer Success: US LBM
US LBM boosts productivity and customer experience with innovative Descartes last mile delivery solution.
Continually Advancing State-of-the-Art Solutions 
Find out how advanced technologies are helping shape Descartes' routing, mobile, and telematics solutions.
Customer Success: PlaceMakers 
PlaceMakers transforms customer experience by centralizing building supply distribution with Descartes' delivery route planning solution.
Operational Route Planning FAQs
What is operational (daily) planning?
Operational route planning takes customer orders and creates optimized routes and delivery sequences that reduce delivery costs and improve customer service and fleet productivity. 
Why is operational planning important?
Operational (daily) route planning is crucial to meet delivery commitments for the lowest cost while ensuring that delivery routes are feasible and executable by drivers and consistent with operating policies and restrictions.
Looking to meet with a solution expert?