A new peak season may have emerged in Amazon Prime Day. With this year's sale kicking off today, July 16 at noon US PT, and running for 36 hours, industry watchers are keeping tabs on the longest running Prime Day to date. Open only to Amazon Prime members, the sale has expanded its reach, adding Australia, the Netherlands, Luxembourg and Singapore to the current roster spanning Austria, Belgium, Canada, China, France, Germany, Italy, India, Japan, Mexico, Spain, the U.K. and the U.S.
Prime Day: A New Peak Season?
The ecommerce mega-sale was launched 4 years ago in part to create a second shipping peak to rival November's Black Friday and Cyber Monday. Data from Descartes Datamyne reveals an emerging high point in imports by value for many of the top consumer imports sold online.
When considering clothing (HS61/HS 62), Electronics (HS85), Toys (HS95), Furniture/Bedding (HS94), Articles of Leather/Wallets/Handbags (HS42), and Footwear (HS64); the analysis points to a slight surge in imports ahead of the summer season in the Post-Prime (2015-2018 YTD), vs. the Pre-Prime timeframe (2011-2014). While a rise in value is to be expected over time, an aggregate trend is apparent and potentially substantial given the difference of US$6.5 billion in FOB General value between the two periods in May.
One potential part of this rise could be the Amazon Effect in action as online retailers proactively import inventory ahead of Prime Day. It is also interesting to note that other online retailers are now timing sales close to Prime Day with similar deep discounts and quick shipping offers, perhaps further adding to the spike in imports by value.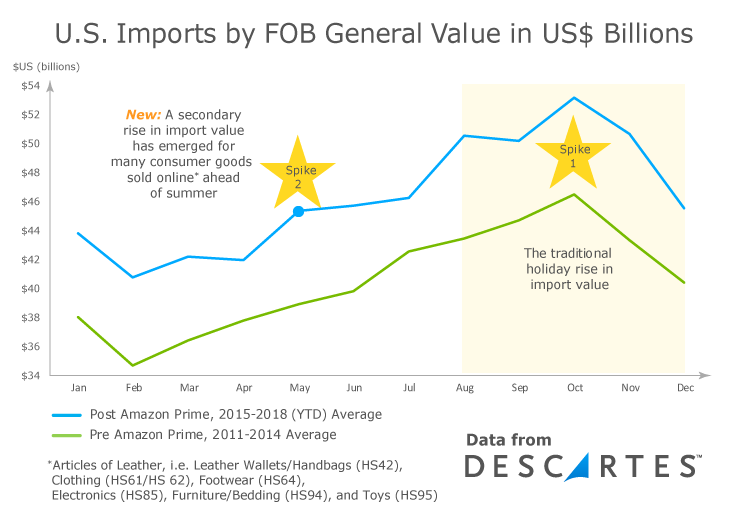 Meeting Customer Expectations: The Amazon Effect in Action
Simply stated, the Amazon Effect is the ongoing evolution and disruption of logistics, supply chains, retail, consumer behavior, markets, and more since Amazon's debut in 1994. Take consumer behavior for example. Amazon habituated customers to a near frictionless shopping process, and helped to solidify the expectation for fast delivery, visibility, communication, and easy returns. Consumers who purchase goods on today's Prime Day peak expect a premiere end-to-end experience.
In this environment, businesses must be fast, digital, and nimble. Peak seasons underscore the need to automate operational processes in the warehouse, ensure inventory visibility, connect to carrier platforms, deploy effective mobile-enabled solutions for drivers on the road, and implement an effective home delivery program while seamlessly communicating with consumers. It is only by effectively streamlining internal operations that today's online retailers can meet customer expectations.
Sales Peaks and Small to Medium-sized Business (SMB)
In some ways, the Amazon Effect has leveled the playing field for small to medium-sized business (SMBs). SMBs can not only gain exposure from online mega-sales such as Prime Day, but can leverage the event as a springboard to boost brand and product visibility.
While Prime Day is one option for online retailers to improve sales, it's still critical to deploy a diversified sales strategy to stay agile. A best-in-best approach calls for systems that can automatically consolidate orders in a centralized platform, print shipping carrier labels, stream information into internal systems, and compare delivery times side-by-side in real time. By applying a holistic approach to growth by tapping a broad range of marketplaces and channels, it's easier to secure a year-long business beyond the peak.
Keeping Pace with Peaks: A Success Story
Just as some suppliers gear up for Prime Day, others are readying for alternate peak seasons depending on their location or business niche. For example, Germany-based costume supplier Maskworld faced a bi-annual shipping spike ahead of Halloween and Carneval. With shipment volumes topping 450% at their height, the company needed to rapidly train seasonal employees, maintain accurate inventory during to avoid stock outs, streamline picking and packing, and more.
By implementing the Descartes pixi solution, Maskworld realized $600K in cost savings from improved logistics efficiency every year. In addition, the company:
Standardized processes between marketplaces
Improved operational productivity by 300%
Consolidated packing stations
Seamlessly communicated with internal systems
Ensured visibility into warehouse inventory
Deployed simplified one-scan shipping where all background and shipping processes are triggered via a single barcode scan
And more
How Descartes Can Help
From ecommerce marketplace and carrier integration, to automated rules and more, Descartes can help omnichannel retailers handle the high volume of peak season. With Descartes' intuitive web-based solution in place, it's easy to compare rates, bulk print labels, automatically email customers with branded communications, quickly locate orders and track shipments—all from an intuitive, centralized dashboard. Learn more about Descartes ShipRush.
Descartes' flexible, bar-code based WMS platform can handle multiple warehouse locations, cross-docking, flexible picking strategies, advanced reverse logistics processes, and more. With rapid onboarding, chaotic stock management with MDE and barcode based receiving goods; advanced pick, pack and shipping processes; standard integrations with sales channels and ERPs; our solution delivers proven results in the warehouse and beyond. Learn more about Descartes pixi.
With a comprehensive database of accurate, up-to-date import-export information, Descartes Datamyne delivers actionable intelligence for market research, sales insight, supply chain management, enhanced security and competitive strategy. The solution is powered by the world's largest searchable trade database, covering the global commerce of 230 markets across 5 continents. Learn more about Descartes Datamyne.