In the early ecommerce days of the 2000s, consumers were happy that they could simply buy products online. Many goods were not available locally and consumers enjoyed the convenience of ecommerce. By 2010 and in the years following, this had changed. With the proliferation of online stores, goods suddenly became available anywhere. As a result, consumers became "price buyers" and searched for the cheapest option. Today, price buyers still exist, but the modern marketplace has seen the rise of "service buyers".
A service buyer is a modern customer who expects to decide where and when they want their goods delivered. It's all about convenience and options, and this is where top performing ecommerce companies differentiate themselves.
How does customer experience tie in? Customer experience is created by passing elements of your brand along with every consumer interaction. It's all about touchpoints and the consumer's perception of your business. If the perception is positive, this means that you did a good job and you can differentiate or even surprise the customer with your level of service. Only positive perceptions can help drive sales and build relationships. A negative experience, however, undermines the customer relationship and can translate into lost sales. Bad news for the bottom line!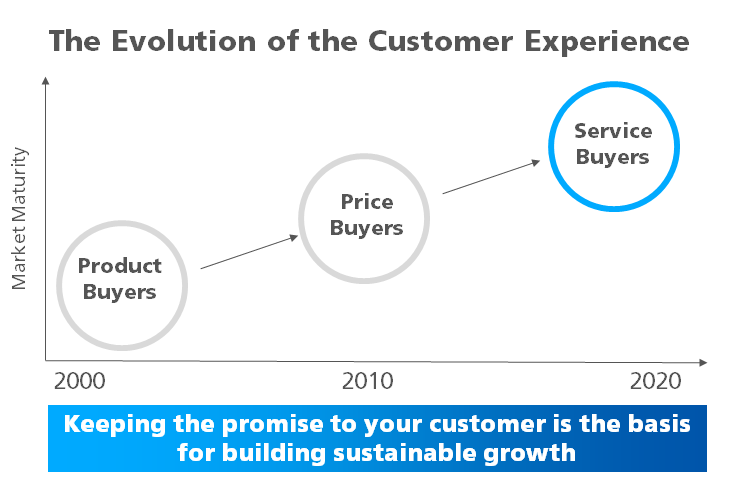 Let's review a short example. I was about to order a new stroller for my two-and-a-half-year-old daughter. My wife provided me with the brand and model type of choice and asked me to purchase the item. After hitting search, I discovered that the stroller was available from many online retailers. Some retailers stood out more than others.
I finally decided on one shop that had the stroller available at a fair price and promised to deliver it free of charge in 2-3 days. Perfect timing! It was Sunday night and we wanted to test the new stroller the following weekend. So, I hit the buy button and waited. Thursday passed, but still, the stroller did not arrive. I did not even receive an email to notify me that my order was on its way (or delayed?). Our weekend test drive was about to be canceled. I waited until Monday before calling customer service. After inquiring about the order status, the agent simply told me that the company did not have a clue when the stroller would be available. I asked him to cancel the order, went to another shop, and bought it there.
Quick case analysis:
Was this a good customer experience? Not really. I would never buy there again. Since 91% of unhappy online customers don't complain but simply leave a website, it's critical that all touchpoints during the customer lifecycle create a positive experience. Even if you have a robust marketing funnel, "fake" availability of items in shopping carts, as in my example, or inaccurate delivery options e.g., ensuring 2-3 delivery days, can make customers upset. It's critical to display item availability in real-time and to offer the required delivery options which you are sure to fulfill.
In addition, mistakes during the pick, pack and ship process, mis-shipping, and delayed deliveries can make customers nervous and offset the positive experience. By using barcode-based processes at put-away and picking you can eliminate mis-shipping down to 0%. Sending automated tracking notifications and providing real-time status of deliveries will keep your customers proactively informed about every stage of the order during transit.
The returns experience also plays a vital role in ecommerce—with 4 out of 5 customers today expecting free returns. There is nothing more discouraging than an inconvenient returns process. Adding a preprinted return label and having reusable boxes for returns creates a positive impression when your customer decides to send items back.
Although many ecommerce companies nowadays understand that offering valuable services to their customers results in better customer experience, when companies grow, they often overlook this reality. Looking at ecommerce top performers like MASKWORLD, Wayfair, Home Depot or BestBuy, these companies ensure great service by leveraging technology to streamline supply chain processes. They deploy state of the art warehouse management, shipping and home delivery solutions that let them be more productive and accurate, which helps differentiate their offerings and extend market share.
What does your supply chain customer experience strategy look like? Are you ready to build strong consumer relationships using your supply chain? Do you want to gain additional insights and provide an extraordinary customer experience for your ecommerce-enabled supply chains? Join us at this year Descartes Evolution in Naples FL, 26-28 March 2019 to learn more, or ask us how Descartes can help you succeed.